National analysts still need to see more from Penn State despite dominant start
Penn State football has had a dominant start to the 2023 season. However, several national college football analysts still need to see more from the Nittany Lions – especially in one key area.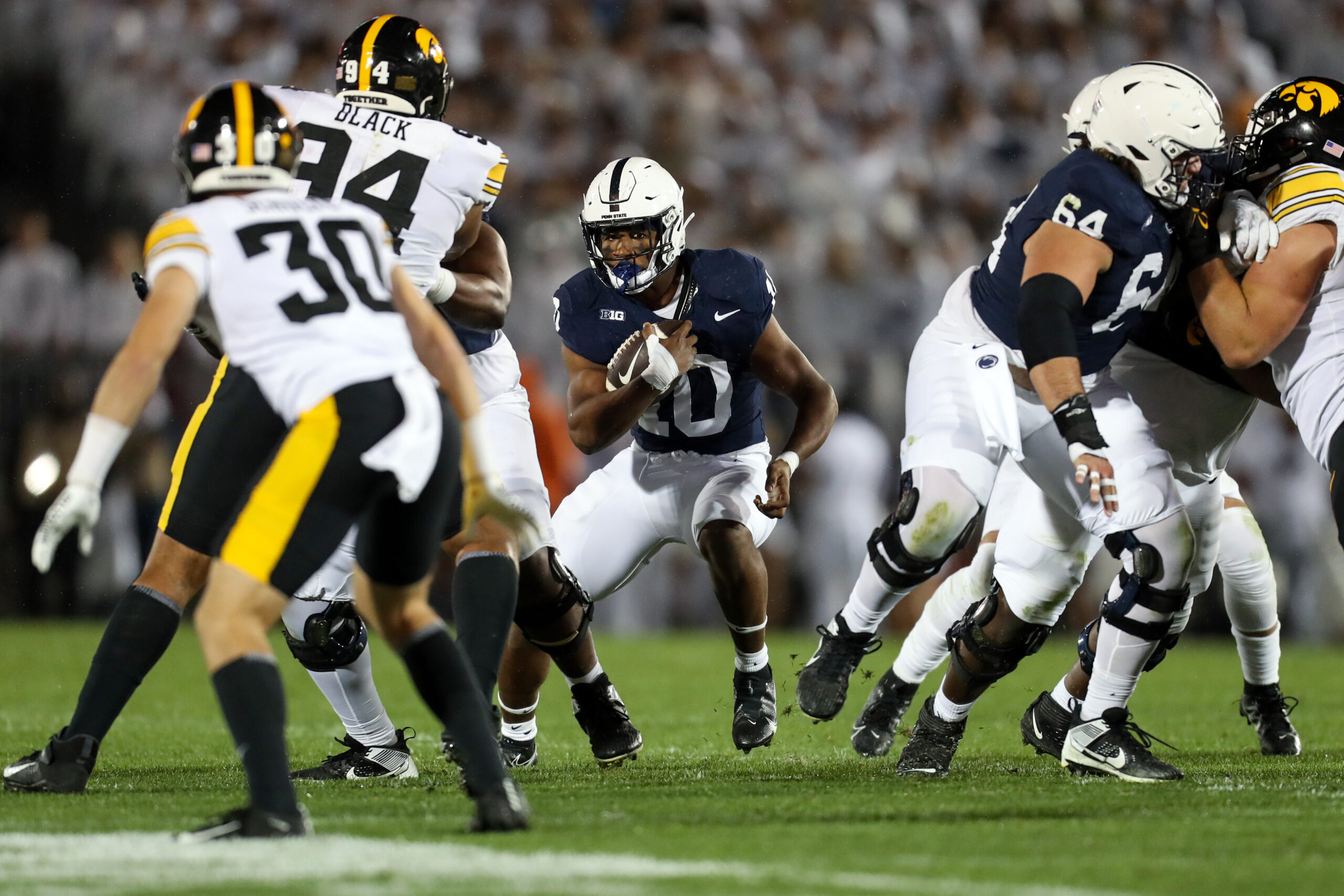 There were sky-high expectations for Penn State football coming into the 2023 season. And so far, the Nittany Lions have delivered. Penn State has looked impressive through four games this year and has officially entered the conversation to be one of the best teams in the country. However, not everyone is sold just yet. On a recent episode of the CBS Sports podcast Cover 3, national college football analysts Chip Patterson, Tom Fornelli, and Bud Elliott expressed doubt about the legitimacy of the Nittany Lions despite the dominant start to the season.
Penn State offense has rolled through 2023
Penn State football has caused all kinds of trouble for its opponents through four games in the 2023 season. Even when the Nittany Lions have struggled, they are still winning games in dominant fashion.
Going back to last year, Penn State has scored 30-plus points in 11 straight games, the longest streak in the nation. The Nittany Lions have also won their previous 9 contests by at least 14 points, also the nation's best. Penn State leads the country in time of possession, has the 17th-best rushing offense, and ranks 33rd in total offense nationally.
CBS Sports analysts express doubt over Penn State on Cover 3 podcast
Most recently, we saw the Nittany Lions dominate Iowa from start to finish, running 21 more offensive plays (97) than the Hawkeyes had total yards (76). However, on the Saturday night recap episode of the CBS Sports Cover 3 podcast, analysts Chip Patterson, Tom Fornelli, and Bud Elliott believed the game showed more about Iowa's deficiencies than Penn State's dominance.
"This really does feel like it's an Iowa problem," Patterson said. "I don't come out of it with any different feelings about Penn State."
Fornelli, who has previously expressed doubts about the play of the Nittany Lions' offensive line this year, pointed to Penn State's 62 first-half rushing yards as a sign of concern.
"In the first half, Penn State was still having a whole lot of trouble running the ball," he said. "They really couldn't. Iowa's defensive front was giving them a lot of problems." Although Penn State football finished with 215 rushing yards on the night, Fornelli said this was more about the Nittany Lions' overwhelming time of possession in the game.
"Their [Iowa] defense was just worn the hell out by the second half, so then Penn State's run game was able to get going…So, I do still have concerns about Penn State's offensive line," he stated.
Drew Allar, defense still impress despite other concerns
However, the reviews for Penn State football weren't all negative. The analysts on Cover 3 were impressed by the Nittany Lion defense, which held Iowa to a stunning 2.3 yards per play and four total first downs on Saturday night.
Despite the concerns up front, CBS and 247Sports analyst Bud Elliott expressed that the Penn State offense showed great maturity by going out and executing a solid game plan against a stingy Iowa defense. "They didn't do stupid stuff and then try to force it all around," he said. "… Process-wise, it seemed to be mature."
As with many others this season, the play of new QB Drew Allar continues to stand out. The sophomore QB is a major reason why the analysts of Cover 3 believe the Nittany Lions are Big Ten title contenders this year. On Saturday's show, Fornelli compared Allar's ability to take what the defense gives him to that of Oregon QB and Heisman frontrunner Bo Nix.
"Allar has that same kind of presence about him, which is, I think, beyond his years as far as experience is concerned," Forenelli said.
Penn State football returns to action Saturday at noon to face Northwestern in Evanston.
---
---
Thank you for reading Basic Blues Nation. Please follow us on Facebook and Twitter for the latest news and insights on your favorite Penn State athletics. For feedback, questions, concerns, or to apply for a writing position, please email us at [email protected] or direct message us on our social media. Also, be sure to check out our new site shop. It's due to your support that we can become one of the market's fastest-growing Penn State sports outlets!