Penn State coach James Franklin comments on recruits requesting NIL payments for recruiting visits
Last week, Ohio State AD Gene Smith testified before Congress that some prospects are requesting NIL payments to go on recruiting visits. Today, James Franklin commented on if the same thing has happened at Penn State.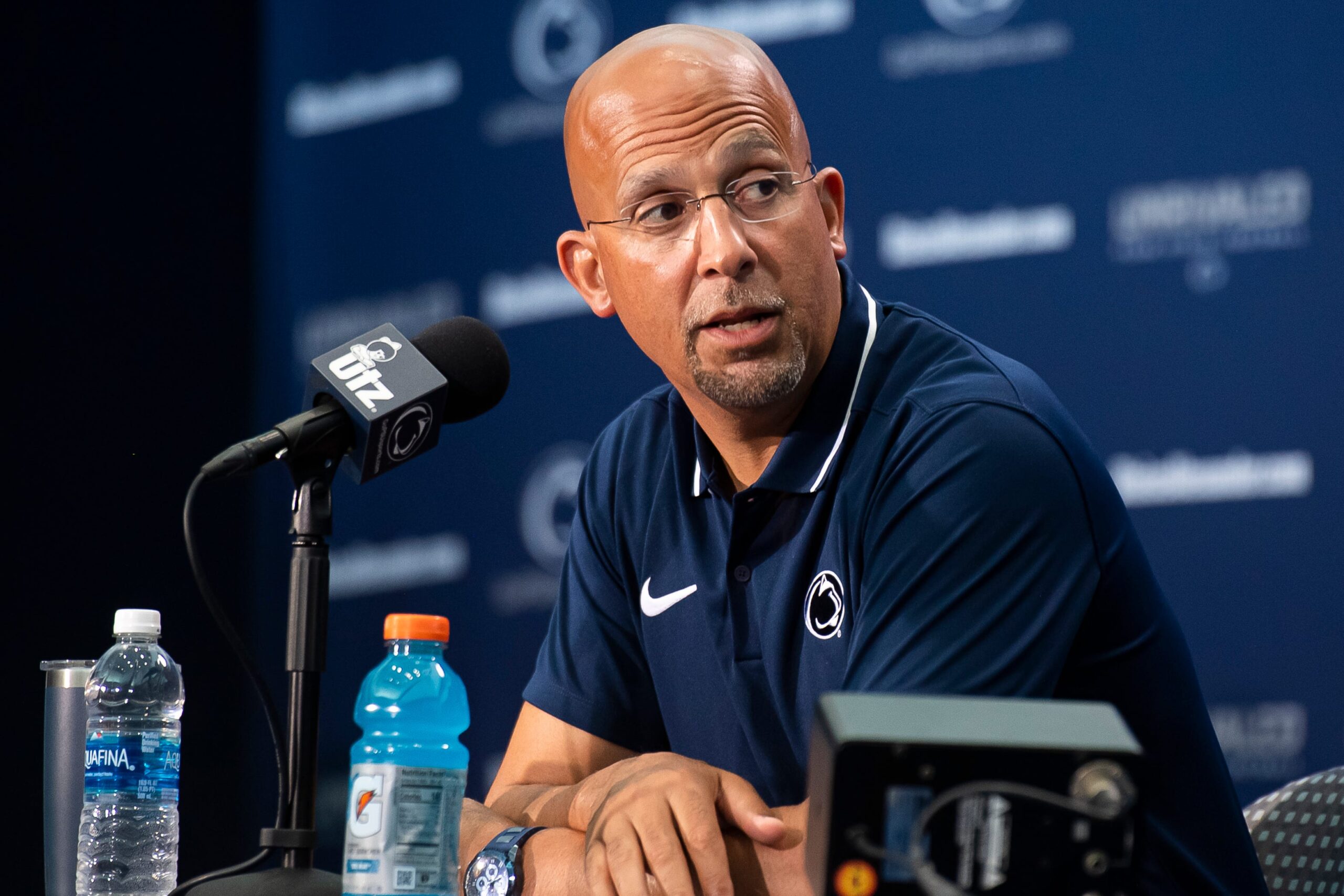 NIL has significantly changed the landscape of college athletics since its official introduction in July 2021. Penn State football, like everywhere else, has had to adjust accordingly. For better or worse, NIL is now a consideration in recruiting, the transfer portal, and current roster management. However, some, including Ohio State AD Gene Smith, believe that NIL has become uncontrollable and have been advocating for federal legislation on the issue. Testifying before Congress last week, Smith made the shocking claim that some recruits are requesting NIL payments in exchange for visiting college campuses. In his weekly press conference today, head coach James Franklin insinuated that Penn State has experienced the same circumstance.
Ohio State AD Gene Smith claims players ask for $5,000 for recruiting visits
Last week, Ohio State AD Gene Smith, along with representatives from the college sports world, testified before the House Committee on Small Business regarding the impact of NIL on college athletics. Smith's testimony, which advocated for federal legislation policing NIL practices, broadly discussed the effect of the NCAA's policy changes on Ohio State.
However, in one eyebrow-raising portion of the testimony, Smith claimed that prospects now request NIL payments in exchange for recruiting visits.
"…NIL implementation has not been without challenges," Smith testified, in part. "When NIL was sanctioned by the NCAA, "bad actors" emerged, seeking personal gain from their ability to influence a young person and/or a family regarding an institution. This has always been a challenge, but NIL has allowed this behavior to be more aggressive. In professional sports, drafts preclude this issue, but the collegiate model relies upon recruiting, not drafting."
"For example, student-athletes and their parents visit campuses at the expense of those universities to evaluate where they may make a commitment," Smith continued. "A practice of asking a school for a fee to simply visit campus has emerged; asking for $5,000 just to visit has become common. During visits, discussions now emerge regarding how much a student-athlete can expect from NIL."
Penn State football coach James Franklin comments on if recruits have requested NIL payments for visits
Today, Smith's comments on Capitol Hill made their way to Happy Valley. During his weekly press conference ahead of Saturday's matchup with Northwestern, James Franklin was asked if similar situations have arisen at Penn State.
"As you can probably imagine, it's kind of like we had the discussion a few, maybe it was a year ago, when something came out from that school [Ohio State], as well, and they talked about a number, and you guys wanted to know if my number was similar, and I said, well, why would my number not be similar," Franklin said. "People seemed shocked by that."
Of course, Franklin's response references comments from Ohio State head coach Ryan Day that a $13 million NIL payroll was needed to compete at an elite level in college football. While Franklin wouldn't address the issue outright, the rest of his answer suggests that the issue is more commonplace in college athletics than many would expect.
"As you can imagine, the schools that you're mentioning, we're all dealing with the same challenges and issues," Franklin continued. "We all are. So yeah, sometimes I think things are said publicly that maybe you guys weren't aware of before. But yeah, we're all dealing with the same challenges and issues because most of us are all recruiting the same guys. That's about as far as I'll get into that…"
On the field, Penn State football travels to Evanston, Illinois, this week to take on Northwestern.
---
---
Thank you for reading Basic Blues Nation. Please follow us on Facebook and Twitter for the latest news and insights on your favorite Penn State athletics. For feedback, questions, concerns, or to apply for a writing position, please email us at [email protected] or direct message us on our social media. Also, be sure to check out our new site shop. It's due to your support that we can become one of the market's fastest-growing Penn State sports outlets!