James Franklin responds to Michigan sign-stealing allegations
Penn State football coach James Franklin was asked about the alleged NCAA violations of a Big Ten rival.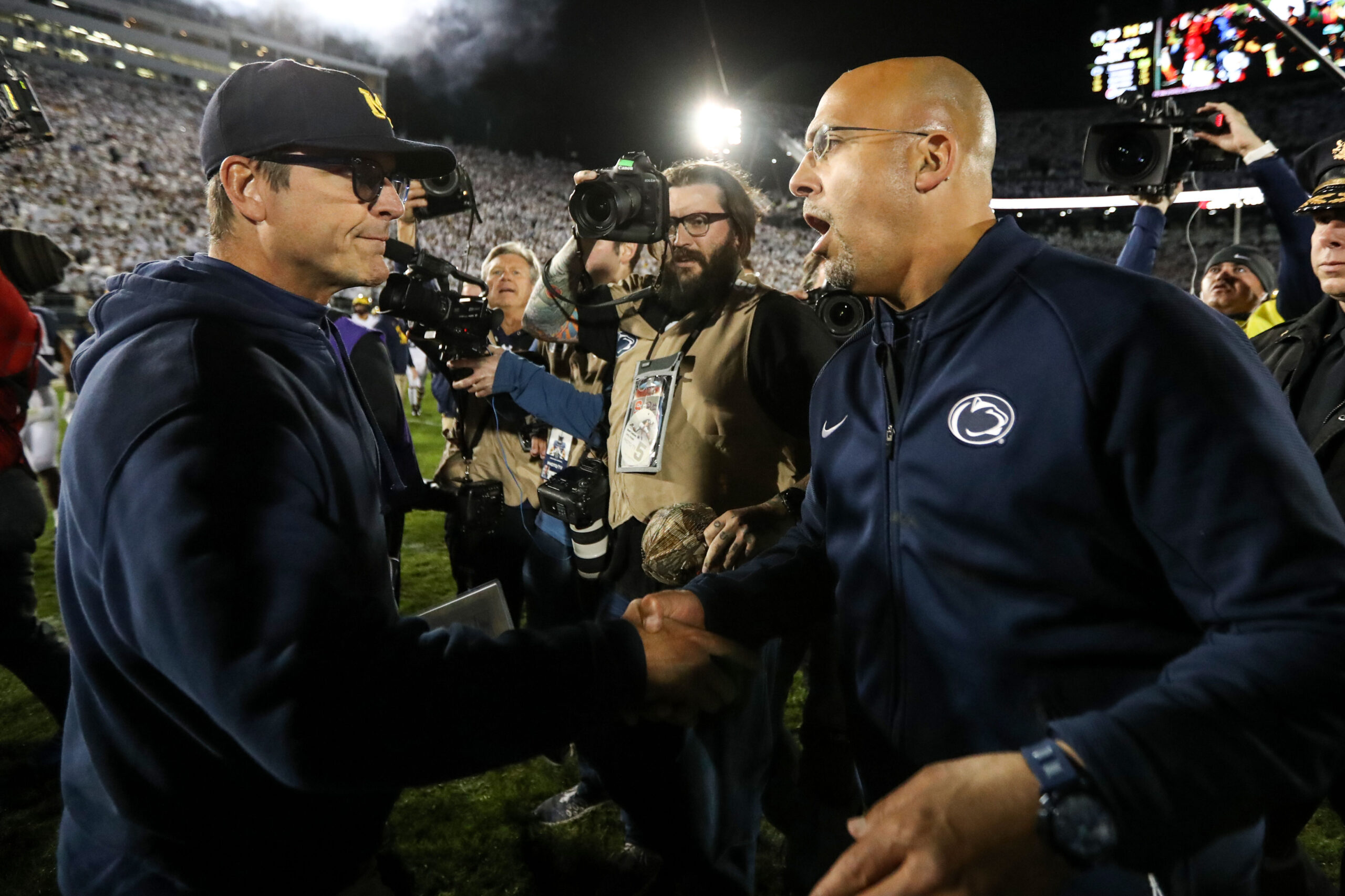 For the last week, the college football world has been captivated by the alleged sign-stealing saga unfolding with the Michigan football program. The more we learn about the allegations, the more egregious the situation seems for Jim Harbaugh and the Wolverines. But the news has hit especially close to home for Penn State football, after reports circulated Monday that Connor Stalions, the now-suspended Michigan football staffer at the center of the probe, was planning to attend the Penn State-Ohio State game in Columbus. During his weekly press conference, Penn State coach James Franklin was asked how the accusations against Michigan have impacted his program.
Suspended Michigan football staffer was planning to attend Penn State game
By now, most people are aware of the NCAA investigation into Michigan and Jim Harbaugh regarding alleged sign-stealing. According to reports, the Michigan program violated NCAA guidelines by conducting in-person scouting of future opponents. Reports further claim that Michigan staffer Connor Stalions was videotaping the playcalling signals of opponents to gain an unfair advantage.
Penn State football became intertwined in these allegations after ESPN reported Monday that Stalions had purchased tickets on both sidelines of the game between the Nittany Lions and Buckeyes in Columbus last week. This was part of larger reporting indicating that Connor Stalions and his associates had attended over 30 games at 11 Big Ten schools in the last three years.
James Franklin addresses Michigan sign-stealing allegations
Given its potential impact on Penn State football, which plays Michigan on November 11, James Franklin was asked about the allegations against Jim Harbaugh and the Wolverines during his weekly Tuesday press conference. Although he didn't comment on the Michigan situation by name, Franklin did discuss sign-stealing generally in college football.
"You got to have a way to disguise your signals," Franklin said when asked about the Michigan situation. "Everybody does it, whether they do it with sheets, or boards, or whatever it may be. We made some changes after the bye week as well in how we operate on offense and defense [in terms of signaling plays]. [But] specific to that, I probably won't get into what's going on at that other school."
Franklin noted that the coaching staff is always vigilant against opponents being tipped off on Penn State's signals.
"But in general, we're always aware of how we signal [and if] are we disguising it," he says. "What happens is, you get after games, and you feel like you called something very unpredictable call in a certain situation, and they're in the perfect defense for it. And you're like, 'What would ever make you play cover 2 on 4th and 1, and we're in the heavy personnel group?' But they're in it, and you got a shot called there."
"Those things kind of make you second guess," he continued. "And you kind of go back and look at those things and what you need to do to disguise it. And if it happens once, that's one thing. But if it happens over and over, then you're aware of it. So, for us, it's something we always are looking at. But obviously, with some of the things going on right now, it magnifies it."
On the field, Penn State football looks to bounce back after suffering its first loss of 2023. The Nittany Lions play Indiana Saturday at noon.
---
---
Thank you for reading Basic Blues Nation. Please follow us on Facebook and Twitter for the latest news and insights on your favorite Penn State athletics. For feedback, questions, concerns, or to apply for a writing position, please email us at [email protected] or direct message us on our social media. Also, be sure to check out our new site shop. It's due to your support that we can become one of the market's fastest-growing Penn State sports outlets!