Did James Franklin take a shot at Pat Narduzzi yesterday?
Did James Franklin take a shot at the recent comments made by Pat Narduzzi yesterday during his press conference?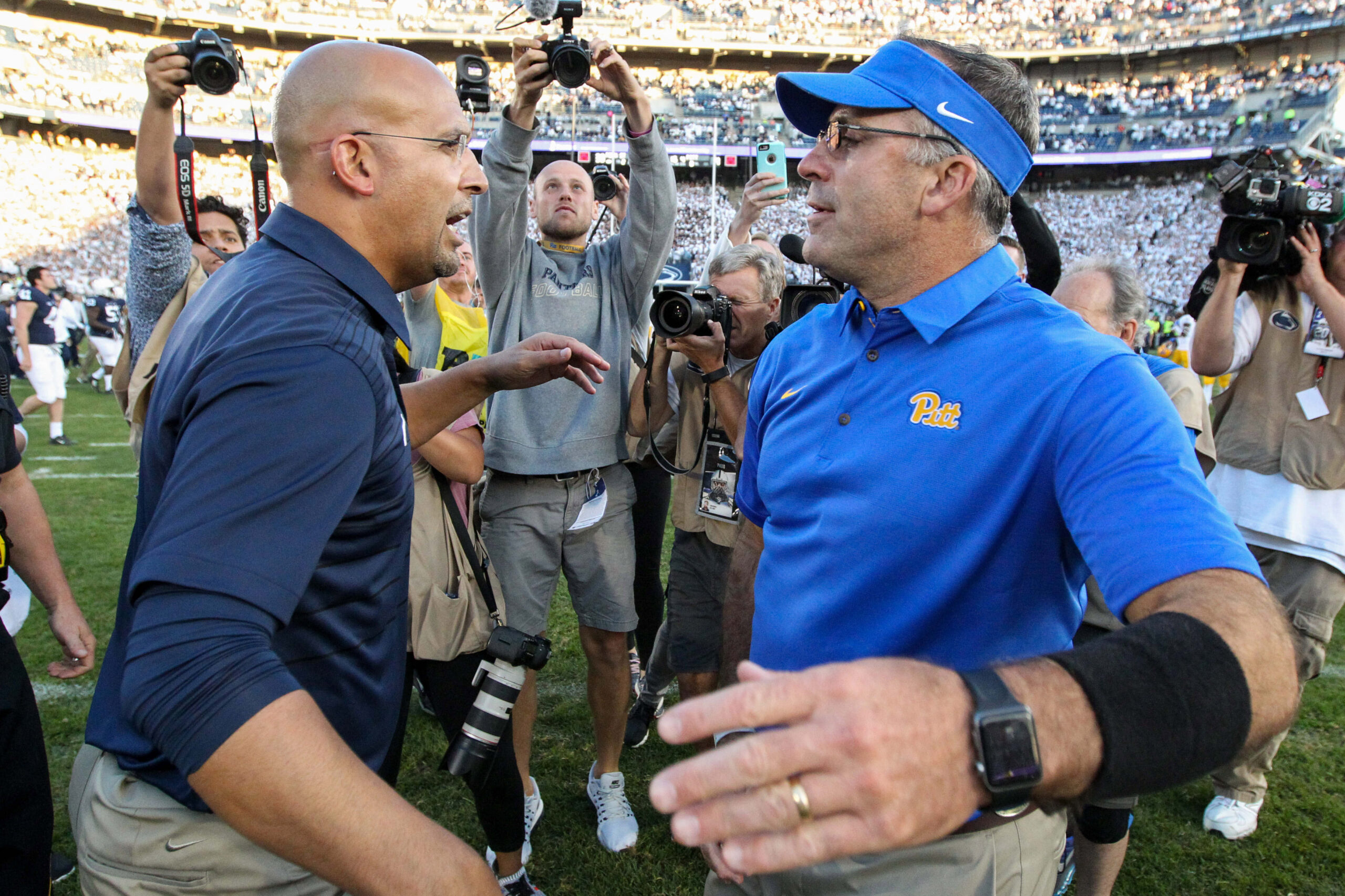 On Tuesday, James Franklin held his weekly press conference for the Penn State football media. During that time, he addressed several topics surrounding the Nittany Lions. But the topics he spoke about are currently swirling around the country in the college football world—the balance of addressing the media while protecting your players. Most recently, we saw Pitt football head coach Pat Narduzzi make some interesting comments following their latest loss, which rubbed some Pitt players the wrong way. James Franklin addressed this concept in general on Tuesday.
Did James Franklin take a shot at Pat Narduzzi yesterday?
It's not an easy concept to navigate in today's college football world. How do you balance helping the local media create interesting content while protecting the feelings of your players? This is something James Franklin handled very well during his tenure as the Penn State football coach.
While speaking to the media on Tuesday, Franklin said, "… And I said this to you guys the other day. I'm always trying to do everything I possibly can to answer your questions. And I think you guys think I'm avoiding the question. I'm trying to answer your question the best I can without being divisive to my team and to my players. Because we have all seen examples of coaches that have not handled that well. Whether they meant to be that way or not, that's how it comes off, and it causes problems. That's always the delicate balance."
What does this have to do with Narduzzi?
After Pitt's latest loss to Notre Dame, a postgame tweet from Noah Hiles led to some frustrated players from the Pitt football team. Hiles was live tweeting Pat Narduzzi's press conference, and what he tweeted led to some reactions on social media all over the country.
Hiles' tweet read, "We lost a lot of good players last year. We thought we'd replace them, and we obviously didn't do a good job with that."
The tweet paraphrased what Narduzzi said, but it's still the underlying context that struck a nerve with players. Now, since that post, players have deleted their own tweets in response to their head coach. But the moral of the story, this is a difficult subject to navigate, and James Franklin has been hyper-aware of this for many years.
---
---
Thank you for reading Basic Blues Nation. Please follow us on Facebook and Twitter for the latest news and insights on your favorite Penn State athletics. For feedback, questions, concerns, or to apply for a writing position, please email us at [email protected] or direct message us on our social media. Also, be sure to check out our new site shop. It's due to your support that we can become one of the market's fastest-growing Penn State sports outlets!