Basic Blues Nation staff predictions: Penn State football at Illinois
Penn State football travels to Illinois tomorrow. Do the Lions escape with a win? Our Basic Blues Nation staff predictions tell you!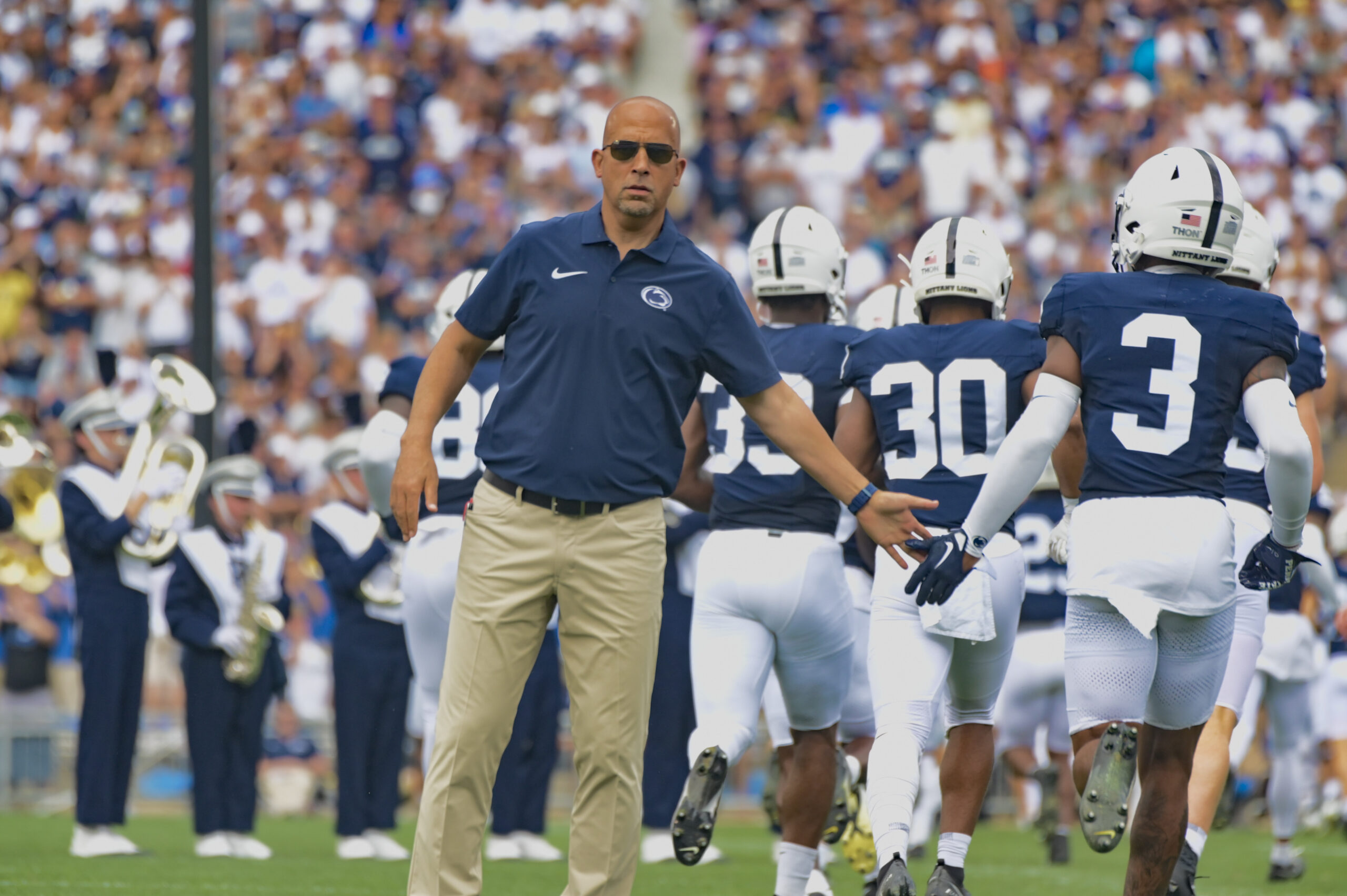 Week 3 of the college football season is officially here! Penn State football travels to Champaign this weekend to take on the Fighting Illini of Illinois. This game was anticipated to be an early Big Ten tilt to start 2023, but two lackluster showings from Illinois have dulled the sparkle of this matchup. Penn State currently sits as a 14.5-point favorite. Can the Nittany Lions escape Champaign with a victory? Our Basic Blues Nation staff predictions tell you where we stand.
Basic Blues Nation Staff Predictions: Penn State vs. Illinois
Caroline Bixler (@_supcaroline) – Host, Penn State Roar Room: Penn State 42 – Illinois 17
Gone are the days of being anxious over a sleepy start at 11 a.m. in the Midwest. This is a different team that's already proven it can get the offense moving quickly and efficiently, and I foresee Drew Allar bringing his calm and collected demeanor with him on the road.
Illinois will hand the Penn State defense yet another test on the ground, which will be made slightly more difficult by dual-threat QB Luke Altmyer. Luckily, the Nittany Lions got some practice in Week 1 against Garrett Greene, where they were able to make effective adjustments at halftime.
I could see Illinois putting together a drive or two via the ground game, but it's not enough to keep up with the best offense Penn State has seen in a long time.
Morgan Chapman (@BasicBluesPod) – Site Manager: Penn State 38 – Illinois 10
I could see Penn State getting off to a slow start in this game. But at the end of the day, the Fighting Illini do not have enough depth to hang with the Nittany Lions. Nick Singleton breaks multiple long runs, and Drew Allar puts together another stellar performance. Also, I feel like this is a game where Chop Robinson goes for 2.5 sacks or more.
Colin Crissey (@ColinPat3) – Contributor: Penn State 35 – Illinois 10
I don't think this game is going to be as close as people are saying it could be. I think it will be close in the first half, but Penn State will lean on the Illini in the second half. I expect both running backs to have big games. Theo Johnson will have more touches in game 3. I expect this to be a statement victory for Penn State.
Mark Gobbie (@TheYinzerLion) – Contributor: Penn State 34 – Illinois 10
A slow start is in order for the Nittany Lions, as a stingy and angry Illini defense is ready to go in front of the home crowd after last week's poor showing. Penn State will have to rely on the arm of Drew Allar arm to make some chunk plays to get it into scoring position. The Nittany Lions won't be able to run it down the Illini's throats. After a hard-fought half of football, the Nittany Lions pull away in the second half for a great first road win in Big Ten play.
Shane Lunnen (@SJLunnen) – Contributor: Penn State 31 – Illinois 13
Before the season, this looked to be a closer contest on paper: Penn State's first road trip combined with a tough Illinois defense. Two games into the season, and the teams may be further apart than originally thought.
What has been surprising about Illinois has been its defense, but in a bad way. The Illini gave up 62 points and over 950 total yards combined to Toledo and Kansas. Highly uncharacteristic for a Bret Bielema defense, but perhaps Illinois lost too much on that side of the ball to the NFL.
I will personally be in the stands for this one. It could start slow for Penn State football with the 11 a.m. local kickoff and being the first road test. But ultimately, the Lions have too much offensive firepower for this to be a letdown.
Surya Maddali (@maddali_surya) – Contributor: Penn State 34 – Illinois 20
Penn State makes a strong statement on the road. I expect the rushing attack to be massive for the Nittany Lions this game. I also expect to see a big game from the defensive front.
Pat Sweda (@PatrickSweda) – Social Media Director/Contributor: Penn State 45 – Illinois 21
This game has similar vibes to 2018, where Illinois hung around for about a half and had a 24-21 lead only to eventually lose 63-24. The Illini defense has looked leaky the first two weeks giving up 30+ points to both Toledo and Kansas.
While the Penn State defense has shown some weakness along the interior, the offensive firepower will be too much for Illinois to keep up with. This will be another national showcase game for Drew Allar, and I expect him to deliver.
Matt Thomas (@MGAT1408) – Editor-in-Chief: Penn State 38 – Illinois 13
The build-up this week has centered around Drew Allar making his first career start on the road. While I'll be curious to see how Allar holds up, James Franklin insists his sophomore QB is ready. I haven't seen a reason to doubt this is the case.
Illinois has not looked impressive through two games, but I expect the Illini to give the Nittany Lions everything they have on Saturday afternoon. Don't be shocked if this one is close going into halftime, with Penn State pulling away down the stretch.
Jaret Gold (@JaretGold) – Contributor: Penn State 35 – Illinois 17
Road games always make me a little uneasy, especially when breaking in a new QB, The good news is that this game doesn't look nearly as tough as it did in the preseason. Illinois' defense is clearly struggling from the loss of last year's defensive coordinator, Ryan Walters, to Purdue. In addition to some players departing to the NFL. That unit struggled against Toledo and Kansas, who have less talent than Penn State does.
Offensively, Illinois will try to run the ball a lot. That is a bit concerning given Penn State's one weakness in the first two weeks has been run defense. Their QB can scramble effectively, something the Nittany Lions struggled with against West Virginia.
This one will be probably close for a half, and then Penn State should be able to pull ahead for a comfortable road win.
How to watch Penn State vs. Illinois:
Saturday's matchup between Penn State and Illinois will kick off at noon on Fox. Gus Johnson, Joel Klatt, and the crew of Big Noon Kickoff will be on the call.
---
---
Thank you for reading Basic Blues Nation. Please follow us on Facebook and Twitter for the latest news and insights on your favorite Penn State athletics. For feedback, questions, concerns, or to apply for a writing position, please email us at [email protected] or direct message us on our social media. Also, be sure to check out our new site shop. It's due to your support that we can become one of the market's fastest-growing Penn State sports outlets!