ICYMI: Former Penn State QB gives spark to faltering Pitt offense in upset win
It turns out all Pitt needed to win was a Penn State QB.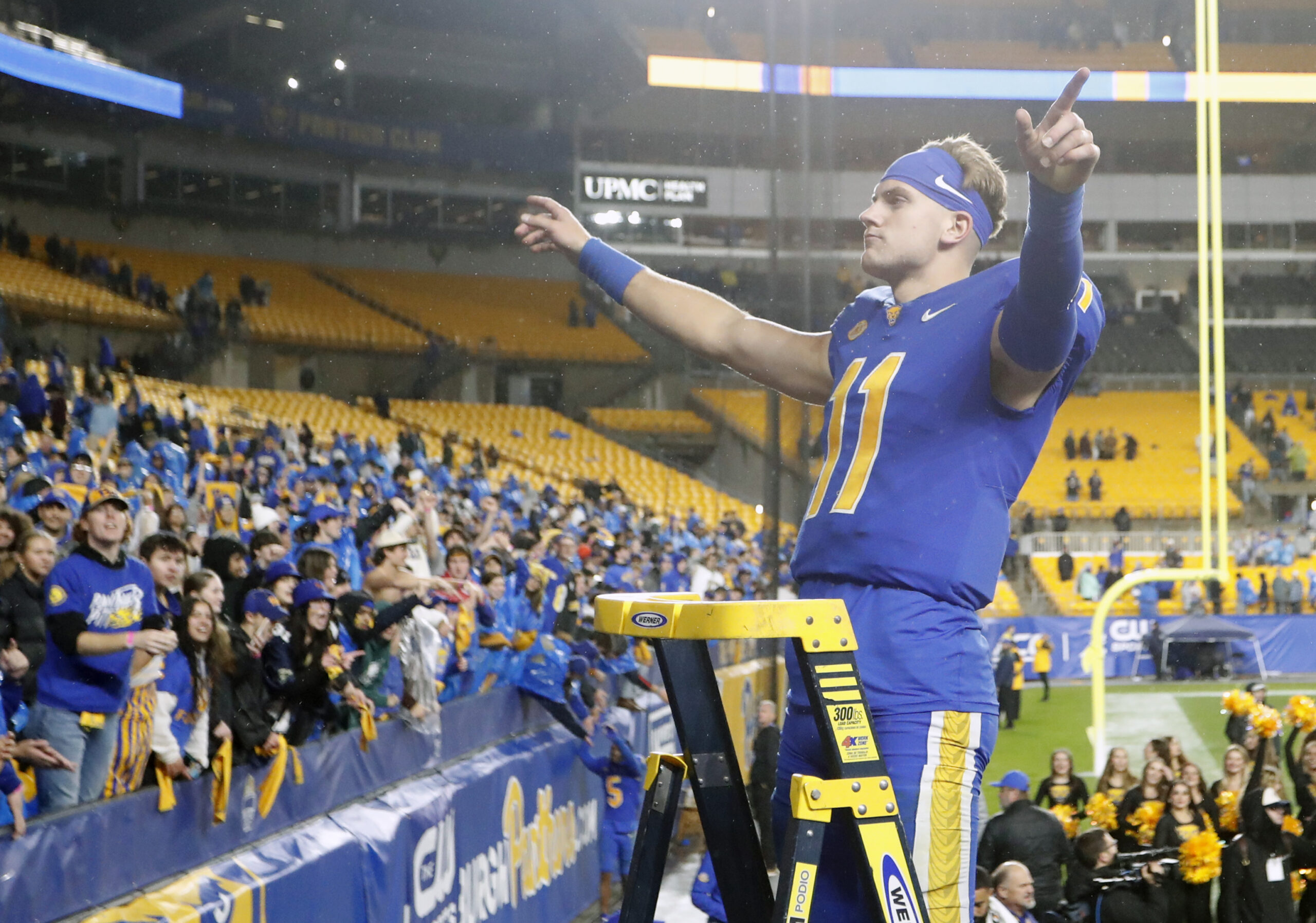 It's always refreshing to see former Nittany Lions perform well, whether in the NFL or at another college program. Sometimes, all a player needs is a fresh start or a change of scenery to unlock their potential. On Saturday night, we saw former Penn State QB Christian Veilleux get his first win as a starter for the Pitt Panthers in an upset win over No. 14 Louisville. Despite heading down Route 22 to play for an in-state rival, many Penn State football fans were happy to see Veilleux have a strong first showing for Pitt. For many, the saying once a Nittany Lion, always a Nittany Lion held true this weekend.
Former Penn State QB Christian Veilleux gets upset win in Pitt debut
It's been a frustrating season for Pitt, to say the least. The Panthers started the 2023 season with a 1-4 record after a flurry of poor performances. Last week, Panthers head coach Pat Narduzzi felt a change at QB was the right move. Narduzzi announced Christian Veilleux as the Panthers' starter for the team's tilt with No. 14 Louisville at Acrisure Stadium on Saturday.
It was not an easy first start for Veilleux with a highly-ranked opponent coming to town. Louisville had just knocked off Notre Dame at home the previous week. However, Veilleux showed up and showed out. Late in the first quarter, Veilleux dropped back and found wide receiver Bub Means for a beautiful 46-yard touchdown heave. That play swung the momentum in favor of the Panthers, who would go on to pull the upset in a 38-21 decision.
Veilleux finished the night 12 of 26 for 200 yards and two touchdowns, and posted a 136.2 passer rating. Albeit positive, his job will not get any easier as Pitt faces three more teams that are ranked teams in 2023. The Panthers head to No. 15 Notre Dame, host No. 4 Florida State, and travel to No. 16 Duke to cap off the season.
Christian Veilleux praises Penn State football after first win as starter
At the conclusion of the Panthers' win on Saturday, Christian Veilleux gave a shot of praise to his former team. When asked about his comfortability playing against a defense in Cover 0, Veilleux said; "There's a lot of testament that goes to the program I was at before to be comfortable and know how to handle Cover 0."
Could this be interpreted as a shot at Pitt's offensive staff? For the sake of this story, we will err on this being a shout-out to the Penn State football coaching staff. For Penn State football fans interested in following Veilleux's 2023 campaign, Pitt will travel to Wake Forest next Saturday. The game will kick off at 3:30 pm ET and air of the ACC Network.
---
---
Thank you for reading Basic Blues Nation. Please follow us on Facebook and Twitter for the latest news and insights on your favorite Penn State athletics. For feedback, questions, concerns, or to apply for a writing position, please email us at [email protected] or direct message us on our social media. Also, be sure to check out our new site shop. It's due to your support that we can become one of the market's fastest-growing Penn State sports outlets!