PSU Fans' Guide for NFL Wild Card Weekend
With 15 Nittany Lions representing PSU in the NFL Playoffs, here's all you need to know about Wild Card Weekend.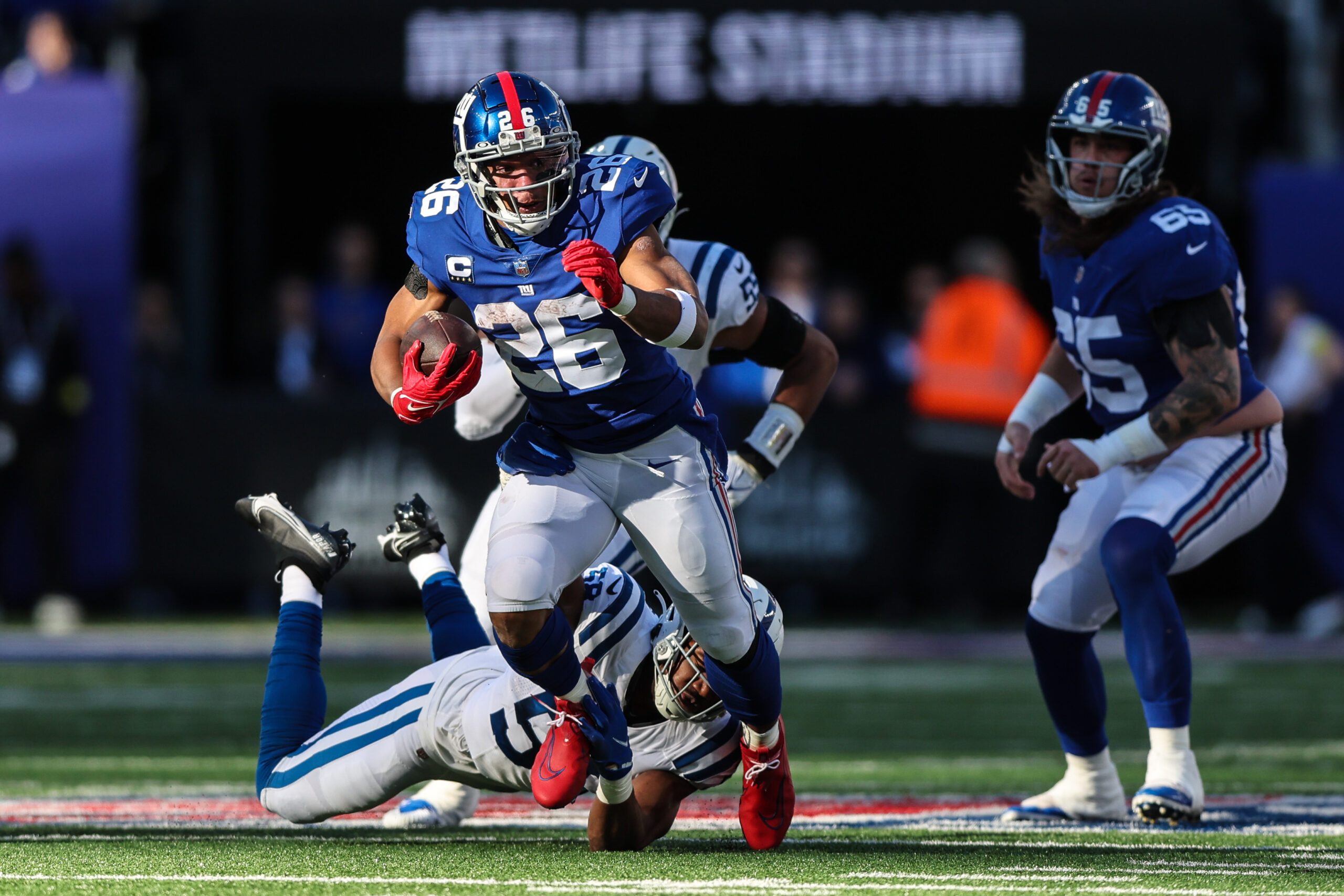 Sadly, college football season is over. But playoff football is in full swing, with the NFL Wild Card round starting this weekend.
Penn State is well represented in this year's playoffs, with 15 total alumni on the rosters of 8 playoff teams. The Nittany Lions are part of an exclusive club of college football programs with at least 10 players on active NFL rosters.
RT if your school had 10+ players in the NFL Playoffs this season 👏👏 pic.twitter.com/2v3ECmzKCj

— FOX College Football (@CFBONFOX) January 14, 2023
If you're like me, you're still craving football but don't have allegiance in any playoff matchups. There are still plenty of reasons for Penn State fans to be engaged in the postseason, however. Former Nittany Lions will take the field in 5 of the 6 NFL Wild Card games this weekend. 
Seattle Seahawks vs. San Francisco 49ers
In Saturday's NFC Wild Card game, Robbie Gould and Kevin Givens will be in action with the San Francisco 49ers as they take on the Seattle Seahawks.
Seemingly the man who never ages, Gould is in his 18th NFL season and his 6th with the 49ers. Gould comes into this game making 84% of his field goals on the year, with a season-long kick of 51 yards. In his 10 career postseason games, Gould has not missed a field goal or extra point attempt. Already highly accomplished, a Super Bowl ring is a final major milestone eluding Gould in his long NFL career.
Meanwhile, Kevin Givens provides vital depth to the 49ers' defensive line. Givens has missed extended time with a knee injury this year but is expected to play on Saturday. In over 300 snaps this season, Givens has 20 total tackles and 2 sacks.
Baltimore Ravens vs. Cincinnati Bengals
Two of Penn State's most recent implants into the NFL will appear for the Baltimore Ravens in Sunday night's AFC Wild Card game against the Cincinnati Bengals.
Odafe Oweh has started 8 games in his 2 seasons with the Ravens. Oweh has 43 tackles this season, including 7 tackles for loss and 3 sacks. Oweh's task will not be easy as he takes on Joe Burrow and the reigning AFC Champion Bengals.
Despite being in his rookie season, Jordan Stout has already secured the Ravens' starting punter role. Stout has averaged nearly 46 yards per punt on the year. He also has placed 26 punts inside the 20-yard line, which puts him in the top 15 among NFL punters this season.
New York Giants vs. Minnesota Vikings
This is a game that Penn State fans have circled as Saquon Barkley makes his NFL postseason debut for the New York Giants against the Minnesota Vikings. If the Giants are to make a Super Bowl run, Barkley will undoubtedly play a prominent role.
Currently 4th in the league in rushing yards and 9th in touchdowns, Barkley has bounced back tremendously in 2022 after dealing with injuries the last 2 seasons. With over 1,300 yards, it's Barkley's 3rd 1,000-yard rushing season of his 5-year career. However, Barkley only had 84 yards on 14 carries against the Vikings in Week 16.
A big reason for the hot start? Saquon Barkley. After numerous injury-plagued seasons, No. 26 was back. He rushed for 726 yards through seven weeks and proved to be as dominant as advertised.

In total, Saquon rushed for a career-high 1,312 yards and 10 TDs. 😤 pic.twitter.com/ZsMOY7nQhp

— NFL (@NFL) January 10, 2023
Outside of Saquon, Cam Brown is also on the Giants' active roster. In his 3rd season, Brown primarily plays on special teams and has 6 tackles in 2022.
Miami Dolphins vs. Buffalo Bills
Sunday's matchup between the Miami Dolphins and Buffalo Bills will be the 1st of the postseason to feature former Nittany Lions on both sidelines.
After starting his NFL career as an undrafted free agent with the Philadelphia Eagles, Ryan Bates has started 19 games on the offensive line for the Bills over the last 2 seasons. Bates has allowed 28 total pressures over 945 snaps this season. In addition, his 1 sack allowed is top 10 among guards with at least 300 snaps on the year.
On the other side of the ball, DaQuan Jones has put together a solid 1st season with the Bills. In his 9th year overall, Jones has 38 tackles, 2 sacks, and a fumble recovery this season.
Across the sideline, Mike Gesicki has experienced a dip in play this year after a strong 2021 for the Dolphins. Gesicki has just over 360 yards on 32 receptions this season. This comes as Gesicki posted back-to-back 700-yard years in 2020 and 2021. However, Gesicki is 7th among all tight ends with 5 receiving touchdowns this season. 
Dallas Cowboys vs. Tampa Bay Buccaneers 
Monday night's final NFL Wild Card showdown between the Dallas Cowboys and the Tampa Bay Buccaneers is perhaps the best matchup for Penn State fans. Not only does it have the most total former Nittany Lions (5), but it has several Penn State alumni in prominent positions across the field.
Coming off his Defensive Rookie of the Year season in 2021, Micah Parsons's stock has continued to rise in 2022. He is already a force to be reckoned with on the defensive side of the ball, turning in back-to-back 1st team All-Pro seasons. For perspective, the only other defender to earn that honor in his 1st 2 seasons is Lawrence Taylor.
Your 2022 #DallasCowboys All-Pros: G @thegob70, EDGE @MicahhParsons11, and WR @_CeeDeeThree! 👏👏👏

Learn more here ➡️ https://t.co/QP3agp0u2Y pic.twitter.com/FVCcl1UgnO

— Dallas Cowboys (@dallascowboys) January 13, 2023
On top of 65 total tackles, Parsons is 7th in the NFL with 13.5 sacks this year. He also ranks 6th among all NFL defenders with 3 forced fumbles.
The question around Parsons is, at what point in this game will he force me to start thinking about what Penn State could have done with his services for another year?
In his 4th season, Connor McGovern has become a dependable starter for the Cowboys on the offensive line. One of the best pass blockers in the NFL according to PFF, McGovern has allowed 2 sacks and 22 total pressures on over 900 snaps this year.
With 3 players, the Buccaneers have the most Penn State representation of any team this postseason. On the defensive side of the ball, Carl Nassib has recorded 23 tackles and 3.5 sacks in limited play this season.
On offense, Chris Godwin and Donovan Smith will try to help Tom Brady win his 8th Super Bowl ring. Brady's blindside will be protected by Smith, who is in his 8th season with Tampa Bay. Smith missed several games due to injury this year but should be able to play on Monday night. In over 900 snaps this season, Smith has allowed 6 sacks and 31 total pressures.
Coming off an ACL injury last December, Godwin ranks 21st in the NFL with 1,023 receiving yards this season. In Week 1, Godwin had 3 receptions for 35 yards against the Cowboys. With an offense that has struggled the entire season, it'll be interesting to see if Godwin and the Bucs can get the ship righted in time for another postseason run.
Also, as an Atlanta Falcons fan, I feel obligated to say that no team from the NFC South should have made the playoffs this year. On behalf of all of us, I'm sorry. The bright side is, even with expansion, there is no chance of sub-.500 teams making the CFP.
Break out the graphic?
With representation on over half the playoff teams, the odds of seeing former Nittany Lions make this year's Super Bowl are high. We'll be sure to root on our fellow alumni and provide updates as necessary. But most importantly, we'll be watching to see if Penn State updates its "internet famous" Super Bowl graphic.

NEWS: Former Penn State Cornerback Finds New NFL Home
Former standout Penn State cornerback Amani Oruwariye signed with the New York Giants Thursday.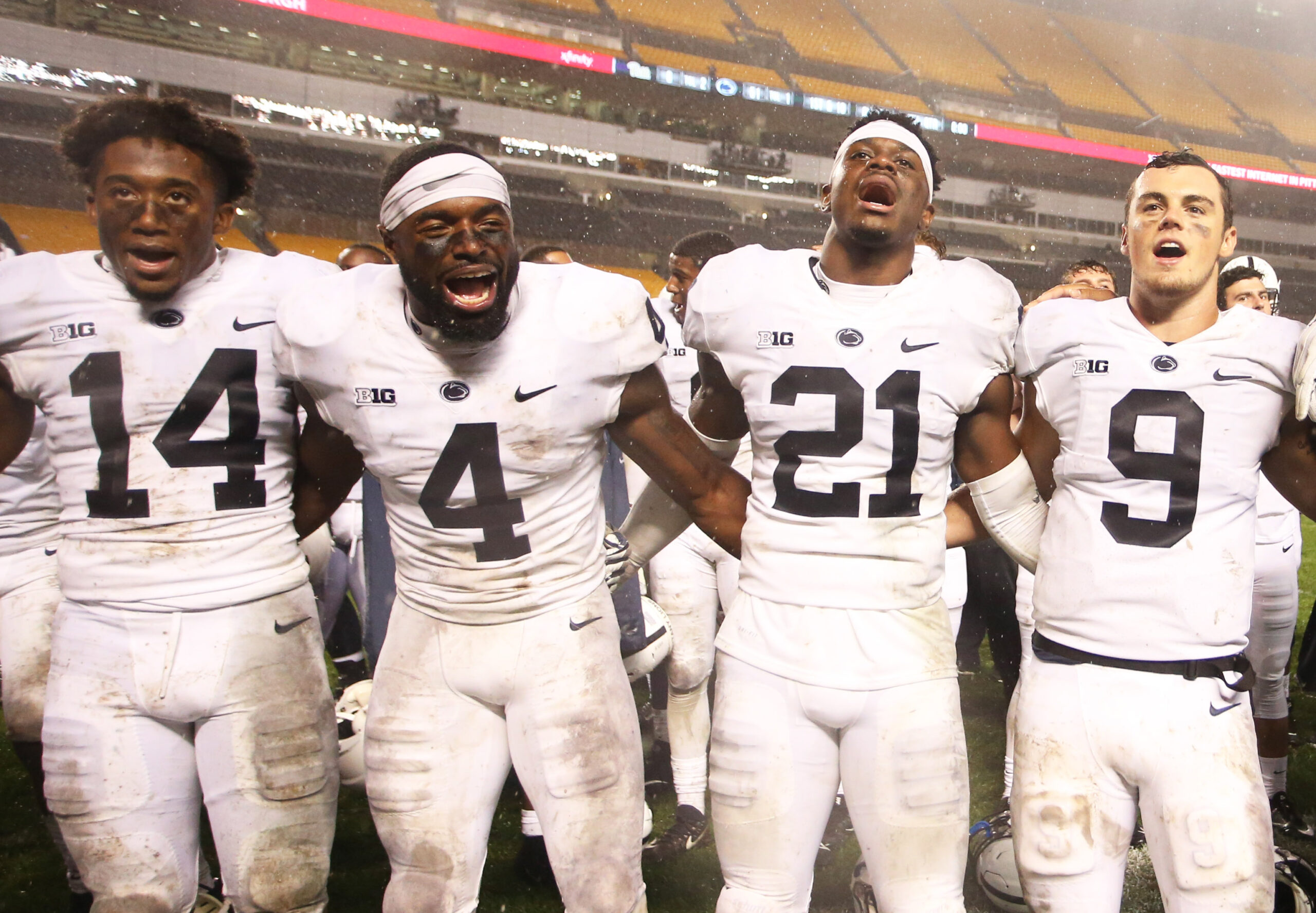 The New York Giants have been busy this NFL offseason. Besides trading for Darren Waller, signing Bobby Okereke, Jamison Crowder, and Parris Campbell, and resigning Daniel Jones and Saquon Barkley, the New York Giants have added a former Penn State cornerback.
Former Penn State Cornerback Amani Oruwariye Signs with the New York Giants
On Thursday, the Giants signed former Penn State cornerback Amani Oruwariye to a one-year deal. Oruwariye will join former Nittany Lions Saquon Barkley and Cam Brown in East Rutherford. While this move will be overshadowed by some other big moves by the Giants, Oruwariye has the chance to play a decent role in his new home. 
FA CB Amani Oruwariye is signing a one-year deal with the #Giants, sources tell @theScore.

Oruwariye had 6 INTs in 2021 as well as 11 PBUs and 2 TFLs. Former #Lions' corner finds a new home in New York.

— Jordan Schultz (@Schultz_Report) March 23, 2023
Oruwariye played for Penn State from 2014-2018. In his senior season in 2018, Oruwariye was voted a first-team All-Big Ten selection by the media and coaches. Earning these honors helped Oruwariye to become a 5th-round draft pick by the Detroit Lions. In his first season with the Lions, Oruwariye had 2 interceptions in 9 games. In the following season, Oruwariye appeared in 16 games and started 15, recording one TFL and one INT. 
Oruwariye broke out in 2021. The former Penn State cornerback started all 14 games he played. He finished with 6 INTs, 11 PDs, and 2 TFLs. After his breakout season, the league was on alert and expected another big year. Oruwariye did play in 14 games in 2022. However, he was benched and, as a result, only started 5 games. Last year was a struggle for Oruwariye, as he had many pass-interference penalties called on him. It was also the first year of his professional career without an interception.
LETS GO BIG BLUE ❤️💙

— Amani Oruwariye (@AmaniO) March 23, 2023
Will New York be a Restart for Oruwariye's NFL Career?
Now, Oruwariye has a new home with the Giants. He joins a cornerback room with Adoree' Jackson, Darnay Holmes, Nick McCloud, and others. Defensive Coordinator Wink Martindale likes to blitz a lot. Having a long, lengthy corner like Oruwariye makes him a fit into the Giants' aggressive defense. Oruwariye hopes to have another great year similar to his 2021 season. A new home with some former teammates might make the difference in Oruwariye's NFL career.
All smiles for @AmaniO 😁 pic.twitter.com/POQcG23yLc

— New York Giants (@Giants) March 23, 2023
---
---
Thank you for reading Basic Blues Nation. Please follow us on Facebook and Twitter for the latest news and insights on your favorite Penn State athletics.
For feedback, questions, concerns, or to apply for a writing position, please email us at basicbluesnation@gmail.com or direct message us on our social media. It's due to your support that we can become one of the market's fastest-growing Penn State sports outlets!
Friday will be a monumental day for Sean Clifford's career
The Nittany Lions' starting quarterback is facing a huge moment in his career this week.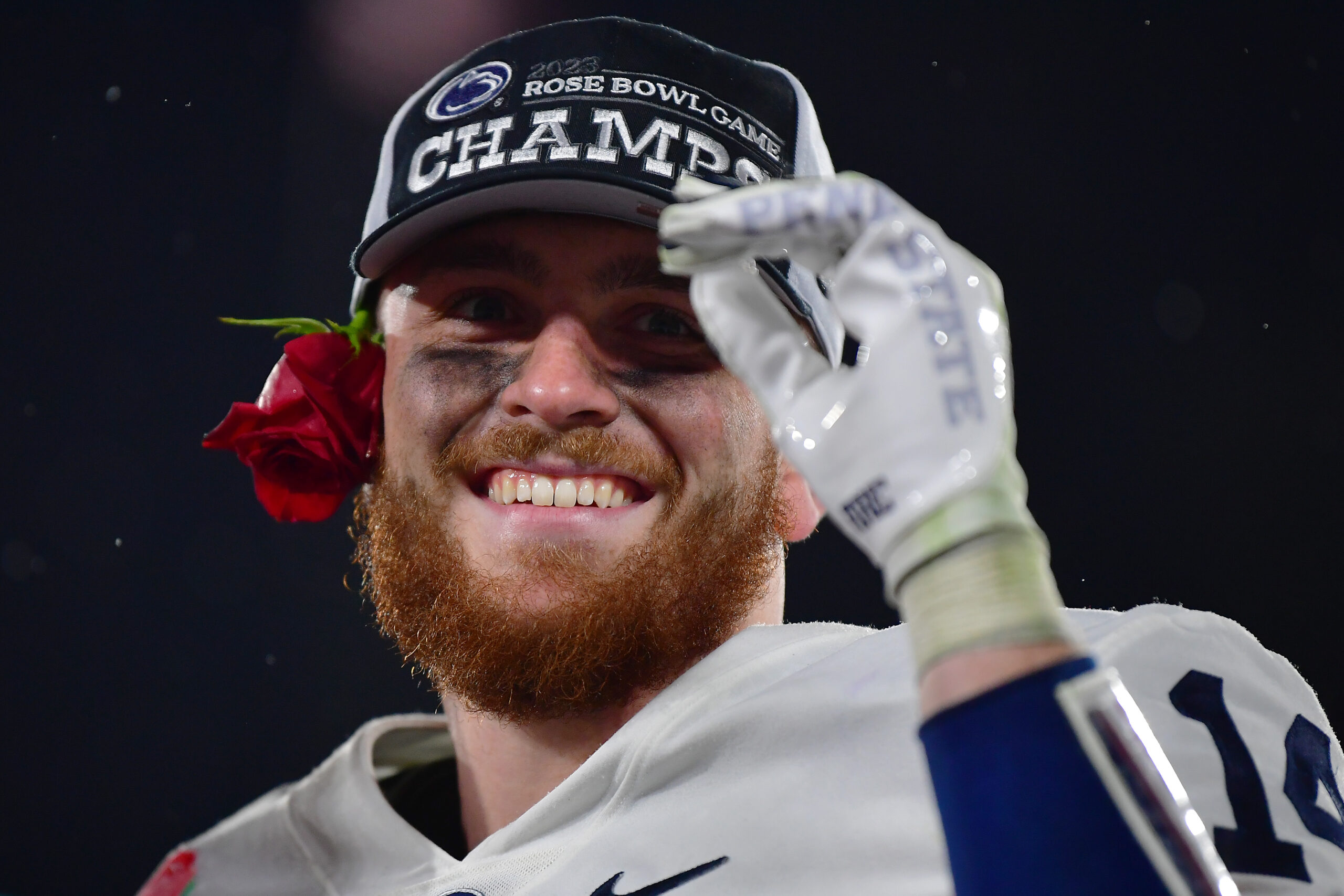 STATE COLLEGE, PA — This week is a massive one for many former Nittany Lions. On Friday, Penn State football will host its annual pro day; most of the nation's top scouts will be in attendance, and many Penn State football players will be on display for the first time in an attempt to boost their 2023 NFL Draft stock. For former Nittany Lion starter Sean Clifford, Friday will be a monumental step in his career.
Love him or hate him, Sean Clifford's career is being watched closely by many
For the past four seasons, Penn State football fans have watched — sometimes unhappily — as Sean Clifford took the field as the Nittany Lions' starting quarterback. After six years in State College and four years as the full-time starting quarterback, Clifford will leave Penn State as the winningest quarterback in program history. He also holds many Penn State records, such as most career passings yards, most career passing touchdowns, and more.
During Clifford's four seasons under center, the veteran quarterback led Penn State football to two 11-win seasons, a 33-15 overall record, a 2-2 record against Michigan, a 3-1 record against Michigan State, a Cotton Bowl win in 2019, and a Rose Bowl win in 2023. Clifford's first and final seasons as the starting quarterback went great — Penn State finished 11-2 overall and in the top 10 during both seasons — however, his middle two seasons were both subpar (4-5, 7-6).
Sean Clifford's strengths mostly lied in his ability to extend plays — he is an alright passer, struggles throwing the ball deep on many occasions, and sometimes makes generally poor decisions. Still, when he is on, Penn State's offense looked unstoppable; this was evident during the Nittany Lions' massive wins over Auburn, Ohio, Indiana, and Minnesota during this past season.
Clifford's NFL future likely hinges on his pro day performance
Despite being a Penn State football record holder, Sean Clifford is not exactly at the top of many draft boards right now. In fact, not a single mock draft that we have seen lists Clifford being drafted in any round — if he is picked up, it will likely be as an unsigned free agent after the draft. To be fair, not many 24-year-old quarterbacks are coming out of college, though this does not mean that Sean Clifford will not perform well in the NFL if he makes it there. For Clifford, this Friday will mean the world, and after all he has done for the Penn State program, we wish him the best as he enters this new chapter.
---
---
Thank you for reading Basic Blues Nation. Please follow us on Facebook and Twitter for the latest news and insights on your favorite Penn State athletics.
For feedback, questions, concerns, or to apply for a writing position, please email us at basicbluesnation@gmail.com or direct message us on our social media. It's due to your support that we can become one of the market's fastest-growing Penn State sports outlets!
Carolina Panthers could be eying former Penn State quarterback with top draft pick
A former Nittany Lion could go No. 1 in this year's NFL Draft.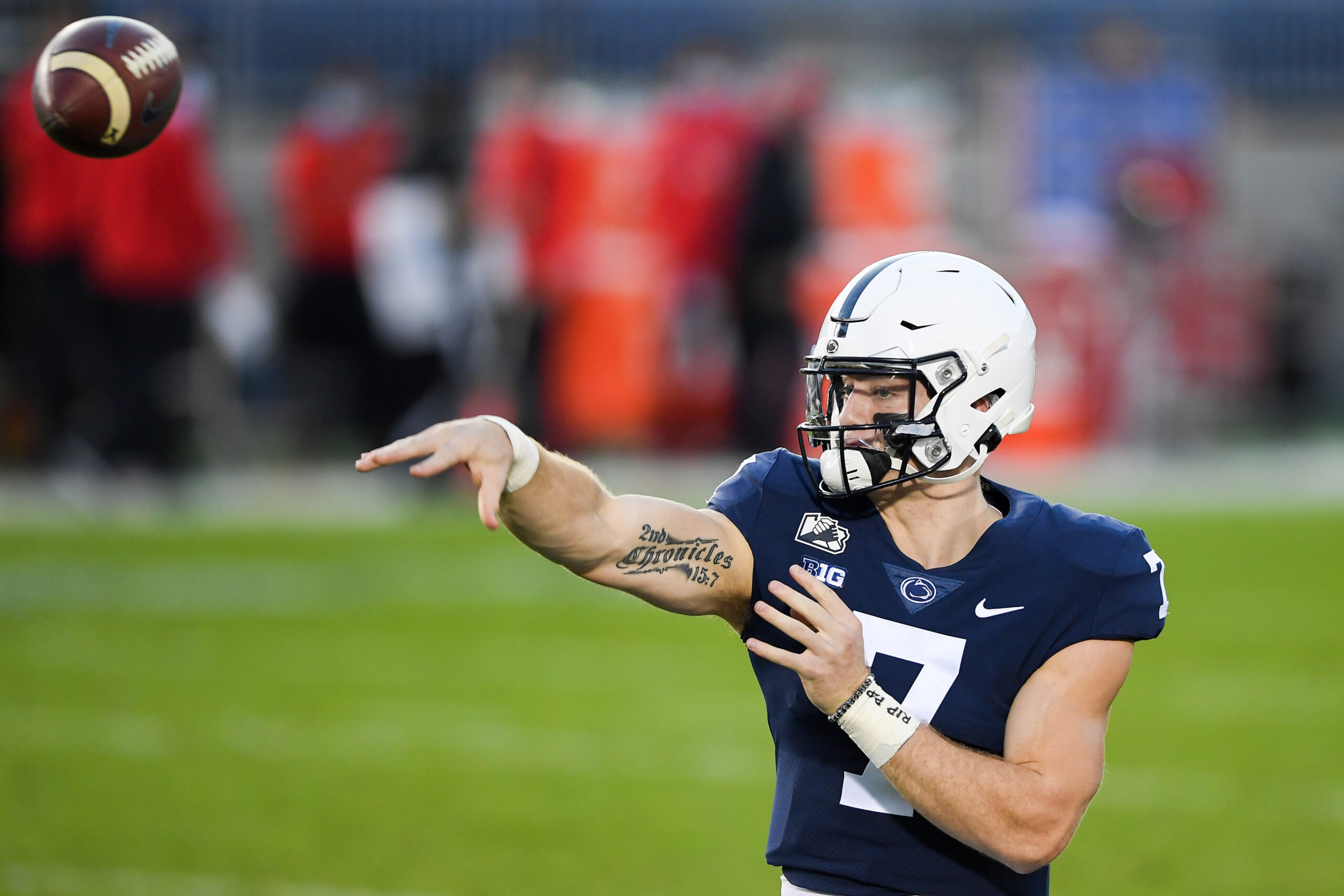 On Friday, a massive NFL Draft trade took place. The Chicago Bears — who previously boasted the No. 1 overall pick in this year's NFL Draft — sent the top 2023 draft pick to the quarterback-hungry Carolina Panthers. The Panthers are in need of a new franchise QB heading into the 2023 season and could be eying a former Penn State quarterback.
Major draft shakeup 🚨 🚨 🚨

Sources say the #Bears are trading the No. 1 overall pick to the #Panthers in exchange for big-time compensation including multiple 1st rounders. Chicago loads up and lands at No. 9, while Carolina can draft its QB of the future. pic.twitter.com/DNvYMStoxd

— Ian Rapoport (@RapSheet) March 10, 2023
Panthers could be targeting former Penn State quarterback
When it comes to former Penn State quarterback Will Levis, the punchline around State College remains the same: why would an NFL team want a guy that was beaten by Sean Clifford for the starting job twice? Well, it's not as simple as who James Franklin would have picked.
What head coach James Franklin saw in former Penn State quarterback Will Levis was the mediocre QB that led the Kentucky Wildcats to a 7-6 season while throwing for 2,406 yards, 19 touchdowns, and 10 interceptions in 2022. On the contrary, what NFL scouts see with Will Levis is his massive 6-3, 232-pound frame and incredible arm strength/talent. Any solid scout will look at Levis and see potential, not the college product.
Since the Panthers need a QB — and Will Levis is a current betting favorite to go No. 1 this year — we could see the former Penn State quarterback end up with Carolina on day one of this year's draft.
James Franklin still made the right call with Levis
Even if former Penn State quarterback Will Levis goes No. 1 overall in the 2023 NFL Draft, Nittany Lion head coach James Franklin still made the right call with Clifford and Levis. Why? Simple: Clifford was the better quarterback in college.
Levis had a robust frame and solid arm, but as we saw a season ago, that arm was inconsistent, and his decision-making was not up to par. The Clifford vs. Levis debate was settled a year ago — The Kentucky Wildcats fell to 7-6 behind a subpar Will Levis; meanwhile, the Penn State Nittany Lions were lifted to an 11-2 finish with a Rose Bowl win all said and done. Levis will likely have a better professional career than Clifford, but Sean Clifford was the better college quarterback.
---
---
Thank you for reading Basic Blues Nation. Please follow us on Facebook and Twitter for the latest news and insights on your favorite Penn State athletics.
For feedback, questions, concerns, or to apply for a writing position, please email our Managing Editor at cjmangum29@gmail.com. It's due to your support that we can become one of the market's fastest-growing Penn State sports outlets!