PSU Fans' Guide for NFL Wild Card Weekend
With 15 Nittany Lions representing PSU in the NFL Playoffs, here's all you need to know about Wild Card Weekend.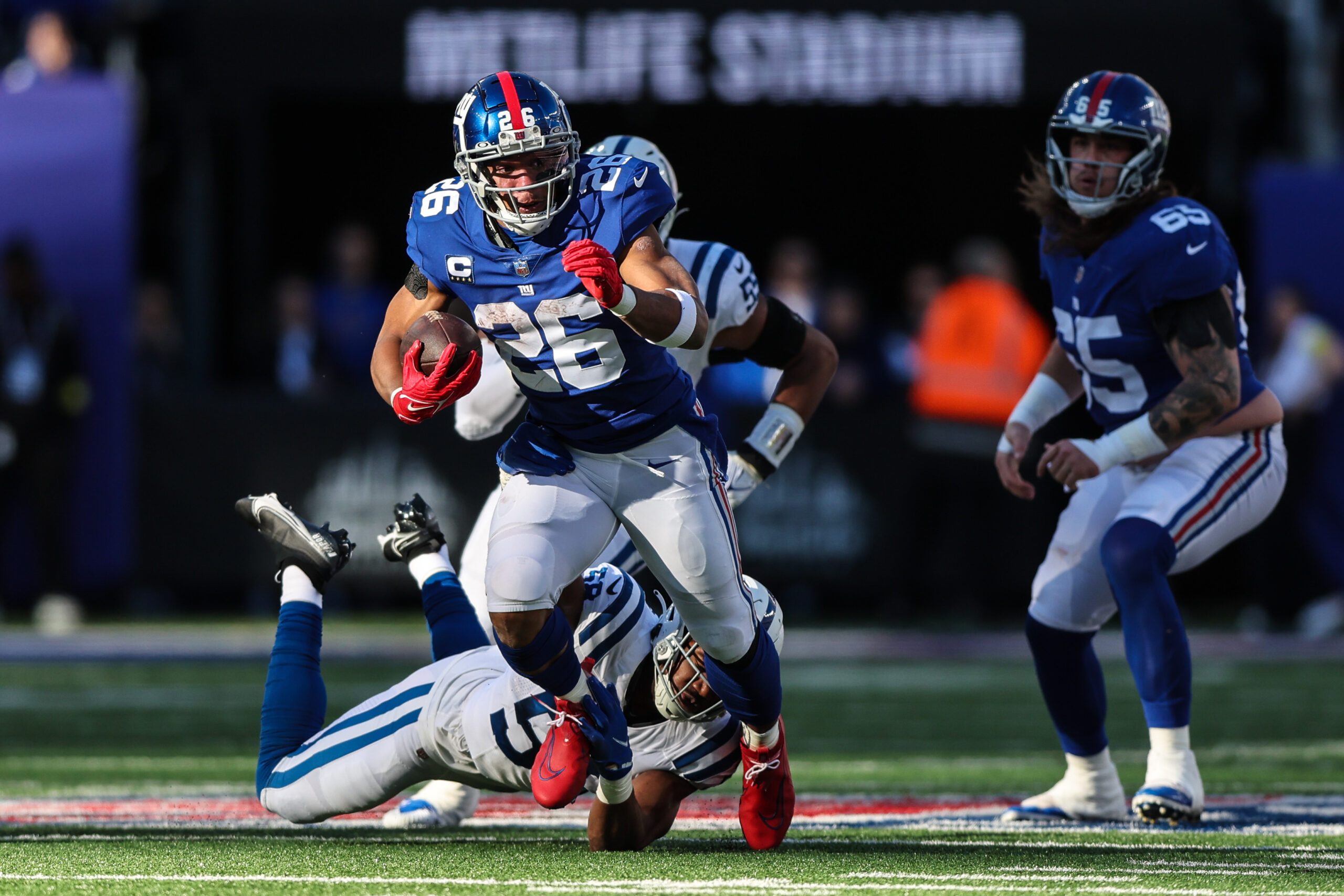 Sadly, college football season is over. But playoff football is in full swing, with the NFL Wild Card round starting this weekend.
Penn State is well represented in this year's playoffs, with 15 total alumni on the rosters of 8 playoff teams. The Nittany Lions are part of an exclusive club of college football programs with at least 10 players on active NFL rosters.
RT if your school had 10+ players in the NFL Playoffs this season ?? pic.twitter.com/2v3ECmzKCj

— FOX College Football (@CFBONFOX) January 14, 2023
If you're like me, you're still craving football but don't have allegiance in any playoff matchups. There are still plenty of reasons for Penn State fans to be engaged in the postseason, however. Former Nittany Lions will take the field in 5 of the 6 NFL Wild Card games this weekend. 
Seattle Seahawks vs. San Francisco 49ers
In Saturday's NFC Wild Card game, Robbie Gould and Kevin Givens will be in action with the San Francisco 49ers as they take on the Seattle Seahawks.
Seemingly the man who never ages, Gould is in his 18th NFL season and his 6th with the 49ers. Gould comes into this game making 84% of his field goals on the year, with a season-long kick of 51 yards. In his 10 career postseason games, Gould has not missed a field goal or extra point attempt. Already highly accomplished, a Super Bowl ring is a final major milestone eluding Gould in his long NFL career.
Meanwhile, Kevin Givens provides vital depth to the 49ers' defensive line. Givens has missed extended time with a knee injury this year but is expected to play on Saturday. In over 300 snaps this season, Givens has 20 total tackles and 2 sacks.
Baltimore Ravens vs. Cincinnati Bengals
Two of Penn State's most recent implants into the NFL will appear for the Baltimore Ravens in Sunday night's AFC Wild Card game against the Cincinnati Bengals.
Odafe Oweh has started 8 games in his 2 seasons with the Ravens. Oweh has 43 tackles this season, including 7 tackles for loss and 3 sacks. Oweh's task will not be easy as he takes on Joe Burrow and the reigning AFC Champion Bengals.
Despite being in his rookie season, Jordan Stout has already secured the Ravens' starting punter role. Stout has averaged nearly 46 yards per punt on the year. He also has placed 26 punts inside the 20-yard line, which puts him in the top 15 among NFL punters this season.
New York Giants vs. Minnesota Vikings
This is a game that Penn State fans have circled as Saquon Barkley makes his NFL postseason debut for the New York Giants against the Minnesota Vikings. If the Giants are to make a Super Bowl run, Barkley will undoubtedly play a prominent role.
Currently 4th in the league in rushing yards and 9th in touchdowns, Barkley has bounced back tremendously in 2022 after dealing with injuries the last 2 seasons. With over 1,300 yards, it's Barkley's 3rd 1,000-yard rushing season of his 5-year career. However, Barkley only had 84 yards on 14 carries against the Vikings in Week 16.
A big reason for the hot start? Saquon Barkley. After numerous injury-plagued seasons, No. 26 was back. He rushed for 726 yards through seven weeks and proved to be as dominant as advertised.

In total, Saquon rushed for a career-high 1,312 yards and 10 TDs. ? pic.twitter.com/ZsMOY7nQhp

— NFL (@NFL) January 10, 2023
Outside of Saquon, Cam Brown is also on the Giants' active roster. In his 3rd season, Brown primarily plays on special teams and has 6 tackles in 2022.
Miami Dolphins vs. Buffalo Bills
Sunday's matchup between the Miami Dolphins and Buffalo Bills will be the 1st of the postseason to feature former Nittany Lions on both sidelines.
After starting his NFL career as an undrafted free agent with the Philadelphia Eagles, Ryan Bates has started 19 games on the offensive line for the Bills over the last 2 seasons. Bates has allowed 28 total pressures over 945 snaps this season. In addition, his 1 sack allowed is top 10 among guards with at least 300 snaps on the year.
On the other side of the ball, DaQuan Jones has put together a solid 1st season with the Bills. In his 9th year overall, Jones has 38 tackles, 2 sacks, and a fumble recovery this season.
Across the sideline, Mike Gesicki has experienced a dip in play this year after a strong 2021 for the Dolphins. Gesicki has just over 360 yards on 32 receptions this season. This comes as Gesicki posted back-to-back 700-yard years in 2020 and 2021. However, Gesicki is 7th among all tight ends with 5 receiving touchdowns this season. 
Dallas Cowboys vs. Tampa Bay Buccaneers 
Monday night's final NFL Wild Card showdown between the Dallas Cowboys and the Tampa Bay Buccaneers is perhaps the best matchup for Penn State fans. Not only does it have the most total former Nittany Lions (5), but it has several Penn State alumni in prominent positions across the field.
Coming off his Defensive Rookie of the Year season in 2021, Micah Parsons's stock has continued to rise in 2022. He is already a force to be reckoned with on the defensive side of the ball, turning in back-to-back 1st team All-Pro seasons. For perspective, the only other defender to earn that honor in his 1st 2 seasons is Lawrence Taylor.
Your 2022 #DallasCowboys All-Pros: G @thegob70, EDGE @MicahhParsons11, and WR @_CeeDeeThree! ???

Learn more here ➡️ https://t.co/QP3agp0u2Y pic.twitter.com/FVCcl1UgnO

— Dallas Cowboys (@dallascowboys) January 13, 2023
On top of 65 total tackles, Parsons is 7th in the NFL with 13.5 sacks this year. He also ranks 6th among all NFL defenders with 3 forced fumbles.
The question around Parsons is, at what point in this game will he force me to start thinking about what Penn State could have done with his services for another year?
In his 4th season, Connor McGovern has become a dependable starter for the Cowboys on the offensive line. One of the best pass blockers in the NFL according to PFF, McGovern has allowed 2 sacks and 22 total pressures on over 900 snaps this year.
With 3 players, the Buccaneers have the most Penn State representation of any team this postseason. On the defensive side of the ball, Carl Nassib has recorded 23 tackles and 3.5 sacks in limited play this season.
On offense, Chris Godwin and Donovan Smith will try to help Tom Brady win his 8th Super Bowl ring. Brady's blindside will be protected by Smith, who is in his 8th season with Tampa Bay. Smith missed several games due to injury this year but should be able to play on Monday night. In over 900 snaps this season, Smith has allowed 6 sacks and 31 total pressures.
Coming off an ACL injury last December, Godwin ranks 21st in the NFL with 1,023 receiving yards this season. In Week 1, Godwin had 3 receptions for 35 yards against the Cowboys. With an offense that has struggled the entire season, it'll be interesting to see if Godwin and the Bucs can get the ship righted in time for another postseason run.
Also, as an Atlanta Falcons fan, I feel obligated to say that no team from the NFC South should have made the playoffs this year. On behalf of all of us, I'm sorry. The bright side is, even with expansion, there is no chance of sub-.500 teams making the CFP.
Break out the graphic?
With representation on over half the playoff teams, the odds of seeing former Nittany Lions make this year's Super Bowl are high. We'll be sure to root on our fellow alumni and provide updates as necessary. But most importantly, we'll be watching to see if Penn State updates its "internet famous" Super Bowl graphic.