Penn State wrestling: Does 2023-24 schedule set Nittany Lions up to 3-peat?
Does the 2023-24 schedule give Penn State wrestling a shot at history?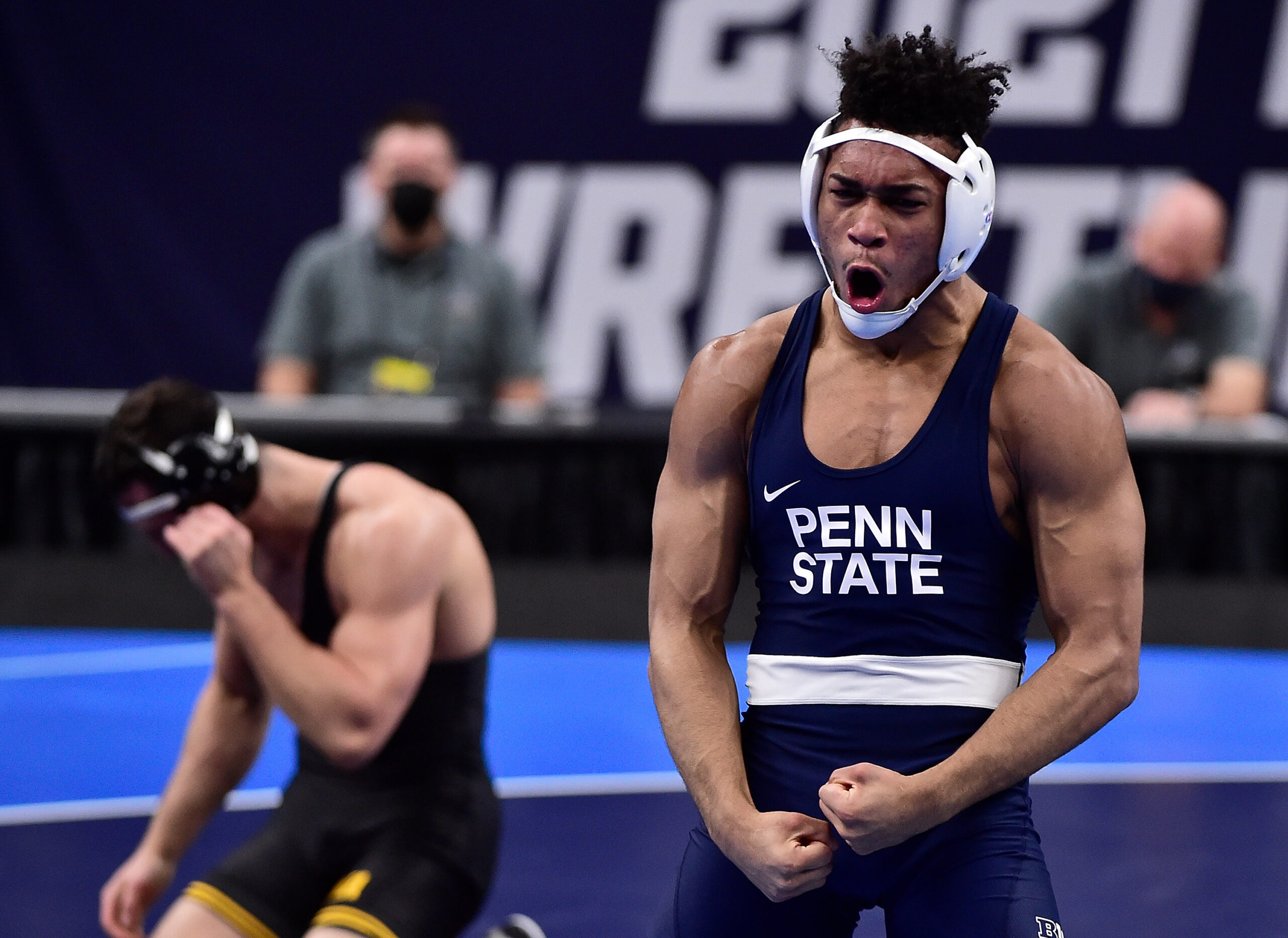 Penn State wrestling is one of the most dominant dynasties in collegiate sports right now and probably the most dominant by any program within the entire Penn State Athletic Department. Cael Sanderson has led the Nittany Lions to 10 National championships in 13 years. Penn State wrestling released its schedule for the 2023-24 season as the chase begins for the 3rd consecutive national championship.
Can Penn State Wrestling extend its Dual Win Streak?
The Nittany Lions are currently on a 44 dual-match win streak. The program record was 60 from 2015-2019 and was eventually snapped by Arizona State. That streak was short of Oklahoma State's record 76 straight dual wins between 1937 and 1951. In the modern era both Iowa and Oklahoma State have had dual streaks reach 69 matches. Penn State has 12 duals this year so their number could be pushed to 56 if they have another undefeated season. Realistically that means that to break the record they would have to go undefeated for another 2 full seasons to have a chance at the record. Cael Sanderson has made it a point to not really care about dual wins or even Big Ten Tournament wins in the past. It is all about the team's National Titles and individual titles for Sanderson. Even so, this team is so extremely talented that another 12-0 season is most likely on deck.
NOV 12 Journeymen Collegiate Classic
Penn State will start the season by competing in the Journeyman Classic at Freedom High School in Bethlehem Pennsylvania. The tournament will feature plenty of high-level wrestlers from 17 schools including No. 4 Cornell, No. 7 Arizona State, No. 9 North Carolina State, and No. 23 Purdue. This will be a terrific opportunity for wrestlers to go against good competition and possibly face someone they may see again in the NCAA tournament. Penn State will be favored to win the tournament with Cornell as the biggest challenger.
NOV 19 Army Black Knight Invite
Penn State will return for the second year in a row. Last season the Nittany Lions sent 15 wrestlers to compete in this invitational and they won the event. Expect a similar scenario this year as this will be another opportunity for guys to get early season time on the mat and sort out the depth chart in a few weight classes. This year's field will include Rutgers, Michigan State, Northern Colorado, Brown, Buffalo, Binghamton, Long Island, and Gardner-Webb. Not nearly as difficult as the Journeymen classic and should be an easy team victory for Penn State.
DEC 3 vs Lehigh
This has been a fun home-and-home series that Penn State has continued for over a decade now. Despite being a smaller school, Lehigh consistently produces All-Americans and shows why Pennsylvania has some of the best wrestling depth in the country. Penn State has won the last 10 meetings between the two sides including a 24-12 victory in Bethlehem last season. Lehigh currently sits at #29 in the projected NCAA tournament finish by InterMat. This is always a fun matchup and expect this one to have a little extra energy with Lehigh fans making the trip and it being the home opener.
DEC 10 vs Hofstra
Penn State hasn't wrestled Hofstra in a dual since November of 2007. That ended in a 28-11 win for the Nittany Lions. This is the type of match that you won't see a full lineup put out by Cael Sanderson. It will once again be an opportunity to explore the depth and competition amongst the team outside of practice. Penn State will win this with ease no matter who steps on the mat.
JAN 5 @ Oregon State
This is the premier non-conference opponent for Penn State this season. Oregon State enters the year with the 20th-best squad according to the InterMat rankings. The Beavers will enter the year with 6 out of 10 wrestlers ranked in the Top 30 of their respective weight classes. These two teams have met each of the last 2 seasons with Penn State winning 31-3 and 32-7. This will be one last opportunity for a few guys to face quality competition before the grueling Big Ten slate begins. Expect a similar result though for the Nittany Lions this year.
JAN 14 vs Indiana
Indiana ranks No. 28 on InterMat and has 4 wrestlers ranked inside the top 30 of their weight classes. Penn State has won 10 straight against Indiana including last season's 35-8 victory in Bloomington. There are two weights to keep an eye on for this dual. The first is at 149 where No. 2 Shayne Van Ness from Penn State takes on No. 7 Graham Rooks of Indiana. This will most likely be the most competitive of the dual and one that fans won't want to miss. The second is at 174 where defending National Champion and No. 1 Carter Starocci takes on No. 10 Donnell Washington of Indiana. With how dominant Starocci has been since he stepped on campus, I expect a quick finish despite the top-10 matchup.
JAN 19 @ Michigan
Last year Penn State dominated Michigan 30-8 in the Bryce Jordan Center and has won the last 11 in this series. This year the Wolverines enter No. 6 in the rankings with 8 wrestlers ranked inside the Top 30. This will be the biggest test to date of the season and it being on the road could throw in an extra obstacle. This one will feature four preseason top-10 matchups. The top two to keep an eye on though will be No. 2 Levi Haines (PSU) vs. No. 7 Will Lewan (MICH) at 157, and No. 1 Carter Starocci (PSU) vs. No. 4 Shane Griffith (MICH). This will definitely be one that you won't want to miss and could be a Top 5 matchup by the time January rolls around.
JAN 21 @ Michigan State
Last year Penn State won 34-6 at home and has won 12 straight against Michigan State. The Spartans don't appear in InterMat's tournament rankings with just 3 ranked wrestlers in the top 30. The only notable matchup to keep an eye on in this one is at 157 with No. 1 Levi Haines (PSU) vs. No. 10 Chase Saldate (MSU). This dual will only be as close as the Nittany Lions decide to let it be and could be an opportunity to rest for some of their top wrestlers.
JAN 28 @ Maryland
This will conclude the 3 match road trip and Maryland enter the season ranked No. 30 in the tournament rankings. The Terrapins will have 5 wrestlers ranked in the top 30 to begin the season. Last season Penn State won 44-3 and has won 8 straight in the series. The match to watch will be at 197 with No. 1 Aaron Brooks (PSU) vs. No. 8 Jaxon Smith (MD). Similar to both Indiana and Michigan State, this one will be however close Penn State wants it to be.
FEB 2 vs Ohio State
This has been one of the most competitive matches of the season for Penn State for many years. That hasn't been the case recently though with the Cael Sanderson and his Nittany Lions winning 29-9 last year in Columbus and 8 straight against the Buckeyes. Ohio State is a bit down this year entering the season ranked No. 12 in the InterMat rankings but does have 9 wrestlers ranked in the top 30. The highlights of this dual will be at 133, 141, and 149 which all feature a Top matchup. Keep an eye on 149 where No. 2 Shayne Van Ness (PSU) will take on No. 6 Dylan D'Emilio (OSU). While Penn State led by Cael Sanderson certainly will have the edge in this matchup, there still should be some great head-to-heads. If nothing else we know Rec Hall is always rocking when Ohio State is in town.
FEB 9 @ Iowa
This matchup is always the headliner for all of college wrestling wherever and whenever it happens. The two best teams in the Big Ten and in the nation meet again in Iowa City this year. Last year Penn State led by Cael Sanderson won 23-14 and has won two straight. Iowa leads the series 7-5 since 2008. This year the Hawkeyes are a bit down with the transfer portal and gambling scandal taking over the program. Iowa enters the year predicted to finish No. 8 in the 2024 NCAA tournament according to InterMat, a far cry from their consistent top 3 status. The Hawkeyes have 7 wrestlers ranked in the top 30 of their respective weight classes.
This dual will still feature multiple top 10 matchups including a much-awaited rematch between No. 3 Beau Bartlett (PSU) and No. 2 Real Woods (Iowa) at 141. Somehow that is overshadowed by the top-ranked matchup at 157 where No. 1 Levi Haines (PSU) will battle it out with No. 2 Jared Franek (IOWA). This dual always has energy and I would expect nothing less from Carver Hawkeye Arena in early February.
FEB 12 vs. Rutgers
Penn State has won 8 straight against Rutgers including a 33-8 victory last season in Piscataway. This is the annual BJC dual despite it being on a Monday and will be the first time the Scarlet Knights will face the Nittany Lions in the big arena. Rutgers enters as InterMat's No. 13 team in the nation and the 5th toughest team on Penn State's schedule. They are one of 7 teams in the nation that have all 10 of their wrestlers ranked in the top 30. The match to watch will be at heavyweight between No. 1 Greg Kerkvliet (PSU) and No. 6 Yaraslau Slavikouski (RU). While Rutgers has plenty of ranked wrestlers, only two are in the top 10 so this should be a pretty easy and exciting match at the BJC for Penn State fans.
FEB 18 vs Nebraska
Nebraska finished 8th last season and is projected to finish 5th this year. Penn State has won six straight in the series including a 21-13 win during the 2022 season. This will be one of the toughest teams Penn State faces all season. The Cornhuskers have 8 wrestlers ranked inside the top 30 in their respective weight classes. This most likely would have been the BJC Dual had THON not been taking place that weekend. This dual will feature five Top 10 matches, three of which will be Top 5. The highlight of this match will be No. 1 Ridge Lovett (NEB) vs. No. 2 Shayne Van Ness (Penn State) at 149. That is right in the middle of a string of three consecutive weight classes where we will see National Title contenders slug it out. Overall Penn State will have too much depth for the Cornhuskers, but this will be a great test to see just how many individual title contenders the Nittany Lions have of their own.
FEB 25 vs Edinboro
As is tradition Penn State always finishes the season with an easy opponent as a final tune-up before the Big Ten Tournament. This year it is against Edinboro who Cael Sanderson and Penn State haven't faced since a 37-12 victory back in 2011. The only match to watch in this one is at 149 where No. 2 Shayne Van Ness (PSU) takes on No. 24 Ryan Burgos (EDIN). This will either be a dual where we see wrestlers get one last match in before the postseason or rest. Whether it is the starters or not Penn State should pull out the shutout.
---
---
Thank you for reading Basic Blues Nation. Please follow us on Facebook and Twitter for the latest news and insights on your favorite Penn State athletics. For feedback, questions, concerns, or to apply for a writing position, please email us at [email protected] or direct message us on our social media. Also, be sure to check out our new site shop. It's due to your support that we can become one of the market's fastest-growing Penn State sports outlets!