Two Penn State QB legends have advice for Drew Allar
Two of the best to ever go under center at Penn State, Todd Blackledge and Michael Robinson, recently had some words of wisdom for expected starting QB Drew Allar.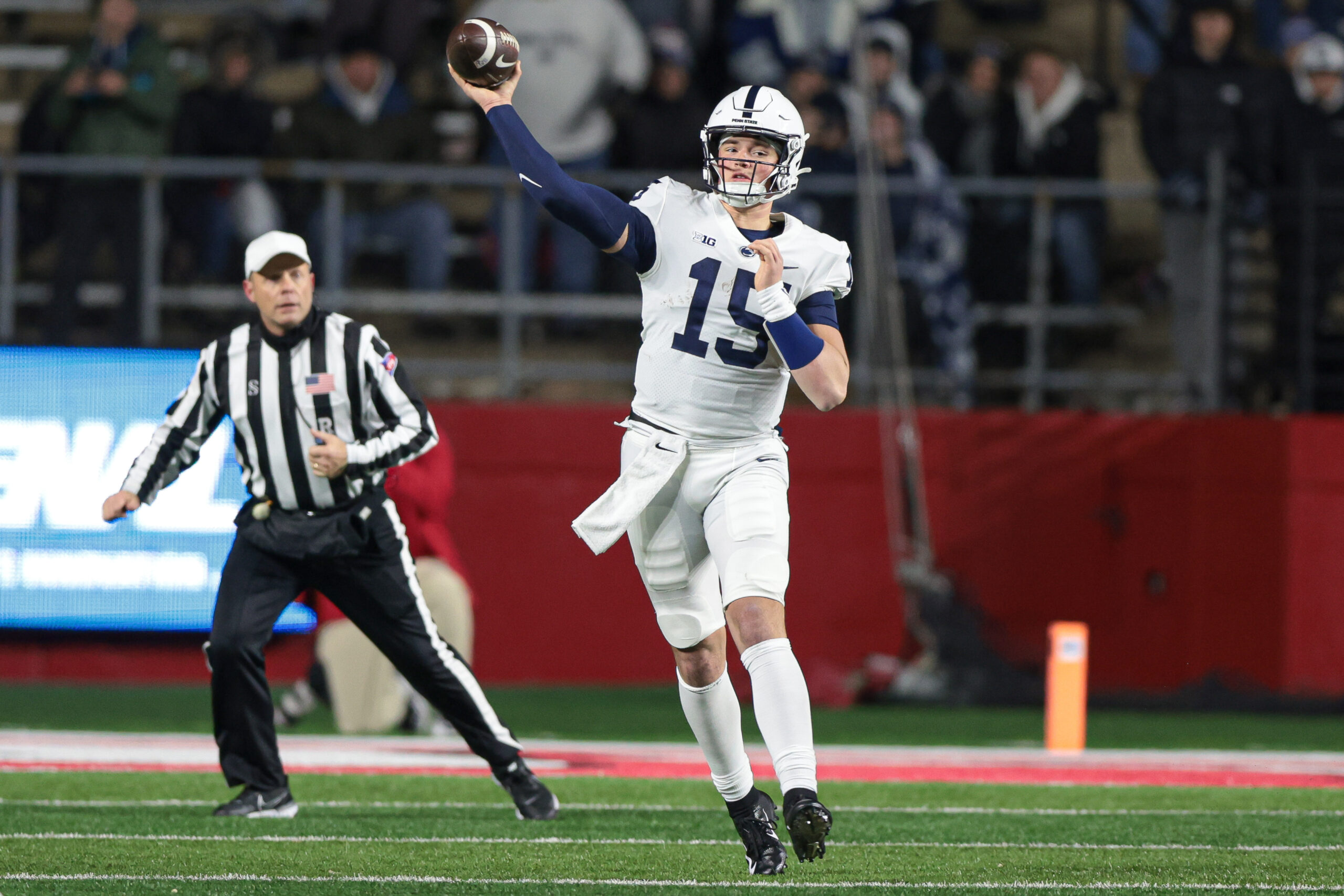 Right or wrong, Drew Allar comes into the 2023 season with higher expectations than any other Penn State football player in at least the last decade, if not longer. That pressure is only amplified by the position that he plays, and the leadership role he is expected to hold on this Nittany Lions team. But Allar has proponents in his corner, including two of the best to go under center in Happy Valley. Recently, Penn State QB legends Todd Blackledge and Michael Robinson assessed Allar and provided some advice to the sophomore signal caller.
High expectations in Happy Valley
The former No. 1 QB in the 2022 recruiting cycle, Drew Allar came to Penn State as one of the most highly touted QBs to ever step foot on campus. Though he hasn't even officially been named the starter yet, many Penn State fans believe he will be the one to get the Nittany Lions over the hump. Nationally, Allar has already been pegged as one of the most important players for the 2023 College Football Playoff race.
All that expectation comes with tremendous pressure for the 19-year-old QB. But Michael Robinson and Todd Blacklege, two Penn State QB legends who have led the Nittany Lions to the pinnacle of success, believe Allar has the right stuff.
Recently, Blackledge and Robinson, who will be in Happy Valley Saturday for NBC's coverage of Penn State's Week 1 matchup against West Virginia, broke down the sophomore QB's attributes. The comments, made during an NBC Sports conference call, were captured by Mark Wogenrich of Sports Illustrated.
Pressure mounting for Drew Allar?
Despite the immense pressure, Blackledge and Robinson have liked what they've seen so far from Drew Allar. Robinson, who led Penn State to an Orange Bowl victory in 2005, spoke highly of Allar's game.
"I do think the fact that a lot of people are saying, from an arm-talent standpoint, he's probably the best or one of the best that has ever come out of the school, that's a tremendous amount of pressure," he said. "From what I've seen from the kid, being around the program in the offseason a little bit, lifting weights there, and just seeing him around the team, he's a leader. He's doing a great job of handling practice, handling the workouts, and handling everything that comes off the field with being a leader. And that's going to serve him well."
Blackledge, who delivered the program's first national championship under Joe Paterno in 1982, added that mentally, Drew Allar approaches things the right way. "The expectations on him are through the roof," he said. "And by all accounts, he seems like he's got the right temperament. He's got the right personality. He wants to be great. He wants to be coached. He's got humility."
While recognizing that Allar has the talent to be great, Blackledge noted that he doesn't think it'll happen overnight. "It's still a big step up from where he was last year to where he will be if he's the starter on September 2nd in front of all of those people in a night game against a quality opponent like West Virginia," he stated.
Penn State football legends Todd Blackledge and Michael Robinson have advice for Allar
From a physical and mental standpoint, Robinson and Blackledge know what it takes to win at Penn State. While they acknowledge the talent and potential of the former five-star recruit, both Nittany Lion legends advise Allar to use those around him this season.
"Lean on that run game," Robinson said on his advice to Allar. "A quality run game and a quality offensive line, along with a tough-nosed defense, will help him out. Now, it's about making the right decisions in the moment. And from all reports, he's been making the right decisions in practice."
Blackledge reiterated that Penn State's ground game can be a major asset to Allar this year. "The great thing for him is Penn State, better than they have in the last several years, has a proven ability to run the football," added Blackledge. "Their offensive line is better than they've been, and they've got some quality running backs. And that can be very, very helpful breaking a young quarterback in."
Michael Robinson and Todd Blackledge will have a front-row seat to the expected start of the Drew Allar era in Happy Valley. Penn State takes on West Virginia on Saturday night at 7:30 on NBC.
---
---
Thank you for reading Basic Blues Nation. Please follow us on Facebook and Twitter for the latest news and insights on your favorite Penn State athletics. For feedback, questions, concerns, or to apply for a writing position, please email us at [email protected] or direct message us on our social media. Also, be sure to check out our new site shop. It's due to your support that we can become one of the market's fastest-growing Penn State sports outlets!