Manny Diaz explains what makes Abdul Carter so special
During Penn State football media day Sunday, Manny Diaz explained why he thinks the skill set of Abdul Carter is so special.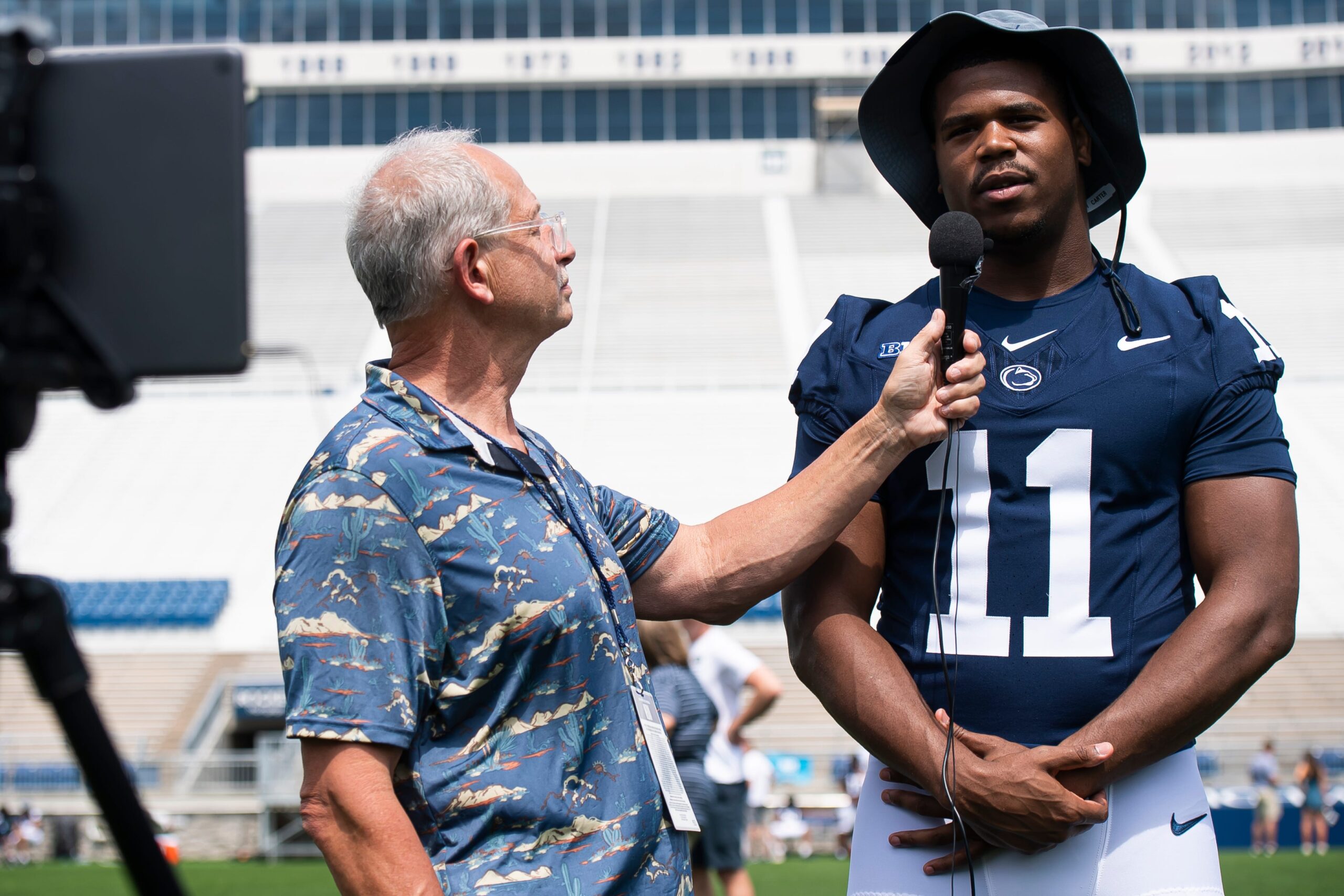 Although he's only been on campus for a little over 15 months, Abdul Carter is already drawing comparisons to some of the best linebackers in Penn State football history. Carter burst onto the scene last fall during his true freshman season with feats of athleticism that harkened back to current NFL All-Pro linebacker Micah Parsons or College Football Hall of Fame LaVar Arrington. Now going into his sophomore season, many think that Carter could cement himself as one of the best linebackers in all of college football. During media availability on Sunday, Penn State defensive coordinator Manny Diaz explained how Abdul Carter has quickly become a favorite among Nittany Lions fans and why the sophomore linebacker could soon receive the national spotlight.
Penn State defensive coordinator Manny Diaz says Abdul Carter can make simple things look extraordinary
On Sunday, the press gathered inside Beaver Stadium for Penn State football media day. In addition to players and head coach James Franklin, the media was given time with the Nittany Lions' coordinators, including Manny Diaz. During his availability, Diaz was asked how having a player as talented as Abdul Carter schematically benefits a defense.
"Well, certainly, if you have a player like Abdul who has a certain skill set or some things that he does very well, you want to put him in those positions to make plays as often as possible," Diaz said. The Penn State defensive coordinator then went on to explain why he thinks Carter caught the attention of so many last season.
"With Abdul's talent, if Abdul just does simple things in a simple manner, it will look extraordinary to the outside eye," Diaz explained. "Because that's just what very talented people do. You know, when you're extremely talented, and you play simple, you make simple things look extraordinary."
According to Diaz, understanding this dynamic will be critical for Carter to play free and not overthink what he has to do during the 2023 season. "And that, to me, has been what we're trying to get Abdul to understand as he goes into year two. Because expectations, you know, when people sort of realize, 'Oh my gosh, I've got to hit a grand slam with nobody on base,' and that's not necessarily the case [for Carter]."
The sophomore linebacker is ready for big things in year two
As one of the rising stars of this budding Nittany Lions team, fans are anxious to see Carter's abilities on full display this fall. In 2022, Carter put on one of the most impressive performances for a true freshman defender in Penn State football history.
Carter had 56 tackles, including 10.5 tackles-for-loss and 6.5 sacks last season. He became the first Penn State linebacker to have at least 10 tackles-for-loss and 6 sacks in a season since Dan Connor in 2007. Carter was only the second freshman to ever reach the 10 tackle-for-loss and 6 sack milestone in Happy Valley, joining current Penn State defensive line coach Deion Barnes. Through one season in the Blue and White, Carter has as many sacks as Micah Parsons had in his entire collegiate career. 
While it still may be premature to discuss Carter's status among the greatest of Penn State linebackers, there's no doubting the importance he will have for the 2023 Nittany Lions. And in a few short weeks, the entire college football world will see if version 2.0 of Abdul Carter can surpass version 1.
---
---
Thank you for reading Basic Blues Nation. Please follow us on Facebook and Twitter for the latest news and insights on your favorite Penn State athletics. For feedback, questions, concerns, or to apply for a writing position, please email us at [email protected] or direct message us on our social media. Also, be sure to check out our new site shop. It's due to your support that we can become one of the market's fastest-growing Penn State sports outlets!