James Franklin explains his level of involvement in the Penn State offense
There's been ongoing speculation that James Franklin has too much control over the Penn State offense. On Wednesday, the Penn State football coach took those claims head on.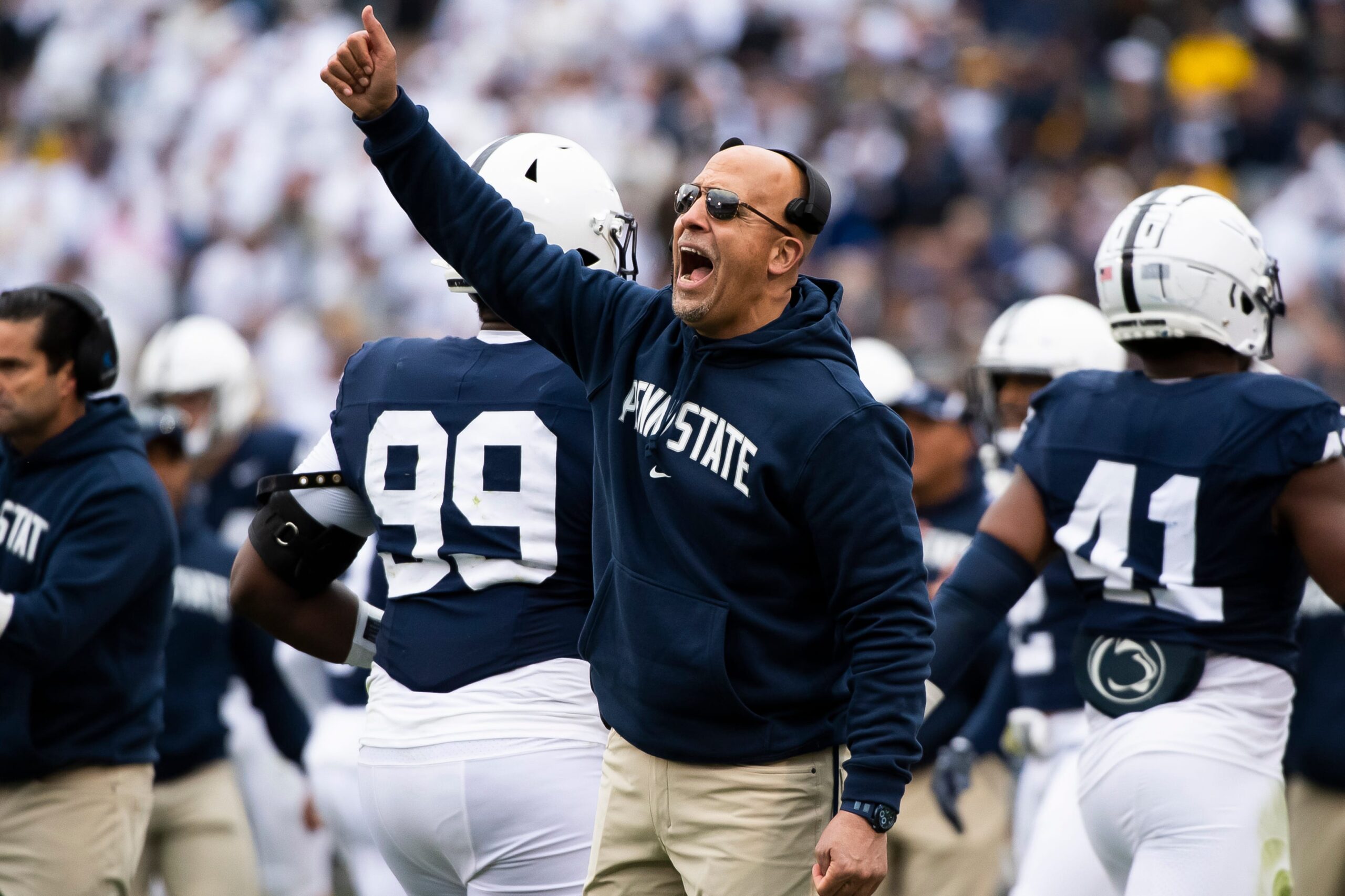 Mike Yurcich has taken the fall for the disappointing showing on offense for Penn State football in 2023. But some feel that the now ex-Nittany Lions offensive coordinator isn't solely to blame. In 2024, James Franklin will enter his 11th season at Penn State with his sixth different offensive coordinator. For years, Franklin's full role in game planning on either ball has been ambiguous, leading to speculation that the head coach may have his thumb on the scale too much when it comes to offensive scheming and play calling. On Wednesday night, Franklin took on that speculation, explaining what his involvement will be under Penn State's new offensive coordinator. 
Have previous offensive coordinators been set up to fail at Penn State?
Turnover is inevitable on college football coaching staffs. But for Penn State football, the offensive coordinator position has felt like a revolving door since James Franklin arrived in Happy Valley in 2014. 
Not every offensive coordinator has been met with failure during Franklin's tenure at Penn State. Some, like Joe Moorhead and Ricky Rahne, left to run their own programs. But others, like John Donovan, Kirk Ciarrocca, and now Mike Yurcich, have exited Happy Valley under less-than-ideal terms. 
While obviously all of his hires match an overall philosophy, there has always been speculation that James Franklin has been perhaps a little too involved in the Penn State offense. Franklin's history on that side of the ball and previous comments about his discussions with his offensive coordinators in-game have given credence to that claim. At best, the comments have only helped to make his involvement in the offense less clear since Mike Yurcich has been fired. 
How much involvement does James Franklin have in the Nittany Lions offense?
If you buy into the claim that James Franklin has too much involvement in the Penn State offense, then you're likely not optimistic that the next offensive coordinator will be able to turn things around in Happy Valley. 
But is Franklin overly involved in the day-to-day of the offense? When asked following practice Wednesday night, the Penn State football coach hoped to set the record straight once and for all.
"As we all know, I'm ultimately responsible for everything," Franklin said. "So I get that and take full responsibility. But I've also said multiple times: I want a head coach of special teams; I want a head coach of offense; I want a head coach of defense…I want them to approach it that way. I want them to create a room or a side of the ball that's high production and low maintenance. I'm there to support whenever possible. I'm there to bring perspective whenever possible."
But I've been very clear about how we run it and how I'm not running the defense, I'm not running the offense, I'm not running the special teams," Franklin continued. "I'm involved in all those things. But I'm also involved in academics. I'm also involved in fundraising. I'm also involved in recruiting. I'm involved in every aspect of the program…I think I've been very, very clear on that. But I also want to be very clear: I also understand that, ultimately, I'm responsible for all of it. So, if that's been ambiguous in the past, I hope that clears it up."
On Saturday, we'll get our first look at the Nittany Lions offense under the co-leadership of Ja'Juan Seider and Ty Howle. Penn State football battles Rutgers on senior day, with kickoff set for noon.
---
---
Thank you for reading Basic Blues Nation. Please follow us on Facebook and Twitter for the latest news and insights on your favorite Penn State athletics. For feedback, questions, concerns, or to apply for a writing position, please email us at [email protected] or direct message us on our social media. Also, be sure to check out our new site shop. It's due to your support that we can become one of the market's fastest-growing Penn State sports outlets!