Penn State football: looking at the offensive improvements made in 2022
The Nittany Lions' offense finally got back on track after underperforming in 2020 and 2021.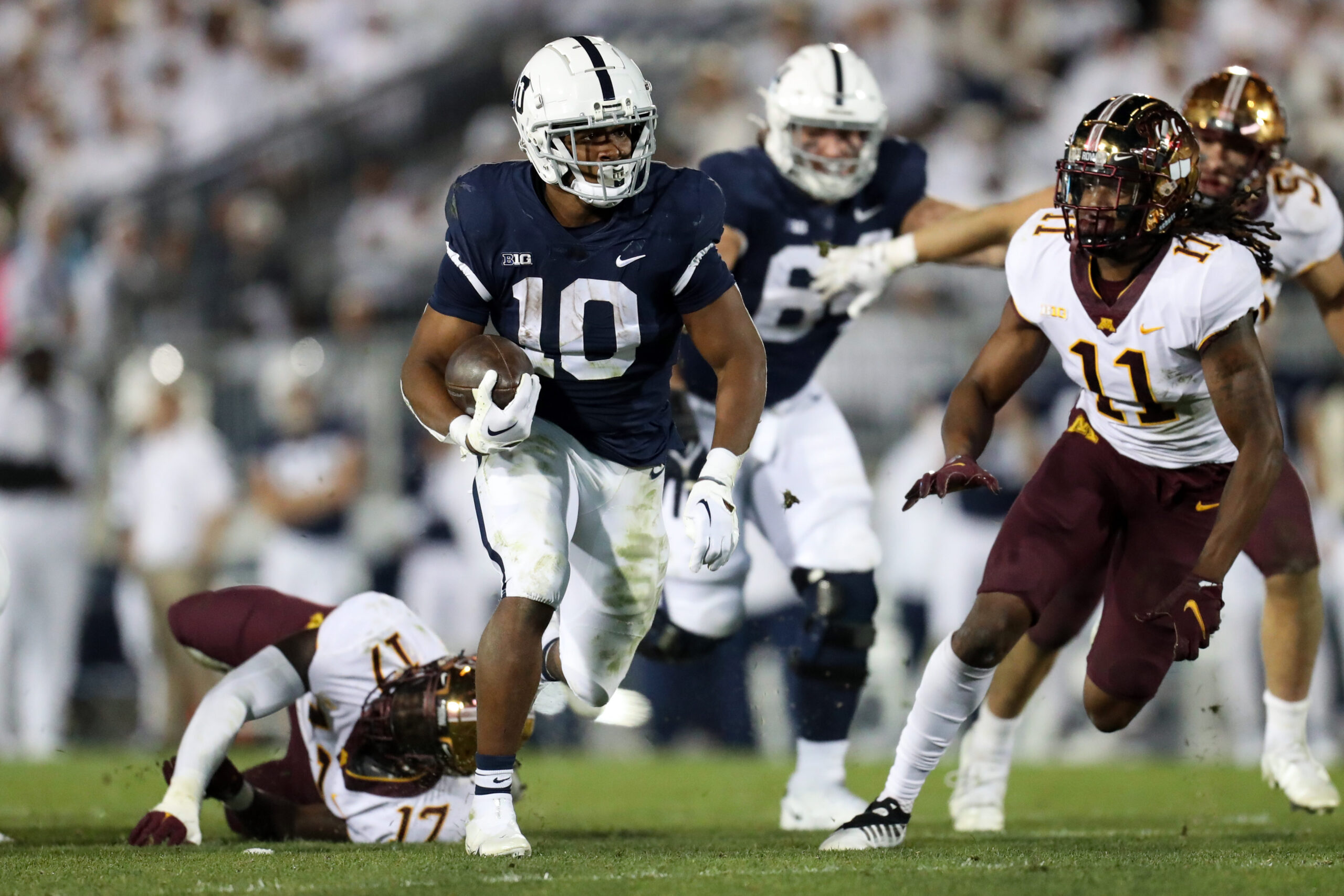 From 2016-2019, Penn State football boasted one of the most electric offenses in the Big Ten. During the COVID-19 season in 2020, the Nittany Lions' offense took a massive step backwards in both the passing and rushing departments. A year later, not much had changed. This season, however, Penn State finally got back to its usual self.
Nittany Lions boast an electric offense in the late 2010s
After the sanctions on Penn State football were lifted, James Franklin and Co. were off and running. Penn State finished the 2016 season with an 11-3 record and a Big Ten Championship, and followed it up with two more 11-win seasons in the years that followed. In 2017, Penn State finished 11-2 (Fiesta Bowl Champs), went 9-4 in 2018, and got back to 11-2 (Cotton Bowl Champs) in 2019.
2019 season
In 2019, Sean Clifford's first season as Penn State's starter, the Nittany Lions finished the season 11-2 overall with a win over Memphis in the Cotton Bowl. A lot of Penn State's success that year can be credited to its offensive production both through the air and on the ground.
Despite not having a single 1,000-yard rusher, Penn State still ran for over 2,400 yards and was led by Journey Brown, who had 890 yards on 129 carries (6.9 yards per carry). Through the air, a sophomore Sean Clifford threw for 2,654 yards, 23 touchdowns, and seven interceptions. Clifford's passer rating was 148.5 — the highest of his college career (as a starter).
Overall, Penn State football finished the year with the No. 15 total offense nationally, which averaged nearly 36 points-per-game through the Lions' 13 games that season. In order to get to this point, PSU passed for around 221 yards-per-game and ran for over 190 yards-per-game.
2020 season
A year after Penn State won it's second New Year's Six bowl since 2017, the Nittany Lions came into the COVID-19 season with high hopes. Those hopes were crushed in Week 1 with an ugly (and controversial) loss at Indiana. Over the next four weeks, Penn State football remained winless in the program's worst start of all-time. PSU began the 2020 season 0-5 overall.
This streak snapped in Week 6 at the Nittany Lions knocked off Michigan in Ann Arbor, 27-17. PSU built off of its win over U-M with three more wins to finish the season with a 4-5 overall record. 2020 was Penn State's first losing season since the early 2000s during Joe Paterno's infamous dark years.
Penn State football finished the 2020 season with the No. 54 total offense in the nation, which averaged under 30 points-per-game. The Nittany Lions threw for 256 yards-per-game and rushed for 174 yards-per-game. Notably, Penn State also averaged nearly two turnovers per game.
Sean Clifford took a step backwards with a 137.4 passer rating after throwing for nearly 1,900 yards, 16 touchdowns, and nine interceptions. On the ground, Penn State's offense failed to have a single ball-carrier go over 440 yards. The Nittany Lions saw one player have a 100-yard game: Keyvone Lee (at Michigan).
Despite Penn State's struggles in 2020, most shook it off. It was only the COVID year after all, and no one takes that season too seriously.
2021 season
From Week 1, it was clear that Penn State's offense was going to struggle again. Despite going on the road and beating No. 12 Wisconsin in Week 1, most of the win can be attributed to the Nittany Lions' defense. Penn State walked away with a 16-10 win over the Badgers, the first win of Penn State's 5-0 start.
Despite getting into the top-4 with a 5-0 record at midseason, Penn State football saw a series of costly injuries and finished 7-6 overall. The Lions' final game of the season was perhaps its worst offensive performance of the season: a 24-10 loss to Arkansas in the Outback Bowl.
After the 2020 season, it was hard to imagine that the Nittany Lions' offense could have been a whole lot worse. That being said, Penn State went from the No. 54 total offense in 2020 to No. 90 in 2021. Sean Clifford's solid start turned into another poor season after a rib injury at Iowa, and his passer rating took yet another step down. Clifford finished the season with a 134.4 passer rating, over 3,100 passing yards, 21 touchdowns, and eight interceptions.
On the ground, the Nittany Lions saw more regression as well. Penn State football finished the year with 1,402 yards on the ground — one of the worst in the nation. Its leading rusher was Keyvone Lee, who carried the ball 108 times for 530 yards and two touchdowns.
PSU averaged 25 points-per-game (yuck), with 269 passing yards-per-game and 108 rushing yards-per-game. Overall, the 2021 Penn State offense can be summed up in two words: piss poor. It was just plain bad, and it was largely to blame for the Nittany Lions' 2-6 record in its final eight games of the season.
Penn State football back on track in 2022
This season, no one was sure of what the offense would do. That being said, many had little hope for Penn State's offense. Still, the Nittany Lions delivered with a massive 11-2 season which saw Penn State's offense climb its way back into the top-20.
PSU opened the year with four-straight 30+ point performances, including a 35-31 win at Purdue, a 41-12 win at Auburn, a 46-10 win over Ohio, and a 33-14 win over Central Michigan. Penn State only scored less than 30 points twice this season: Northwestern (monsoon game, 17 points), and at Michigan (17 points). Aside from those two games, Penn State's next-worst offensive performance was in its 30-0 win over Maryland.
The Nittany Lions' offense ranks No. 20 nationally and averages 35.8 points-per-game. 6th-year quarterback Sean Clifford threw for over 2,800 yards, 24 touchdowns, and seven interceptions in a tremendous bounce-back season to finish his collegiate career.
Penn State football boasts a pair of incredible true freshman out of the backfield: Kaytron Allen and Nick Singleton. Both freshman went over 1,000 total yards this season and truly elevated Penn State's offense this season. Nick Singleton also became the Nittany Lions' first 1,000-yard rusher since 2018 (Miles Sanders). This offensive jump from 2021 to 2022 was a massive 70-spot improvement and got PSU back on track.
Penn State football won 11 games and a New Year's Six game for the first time since 2019, will finish in the top-10 yet again, and won the program its first Rose Bowl since 1995. There are big things coming for PSU, and seeing this massive offensive jump was crucial for Penn State football going forward.
*Stats: ESPN, Sports Reference