Penn State football: Best wins over 2023 opponents – Michigan
Destined to be more than "just another game," today we recap the 2013 four OT thriller between Penn State and Michigan.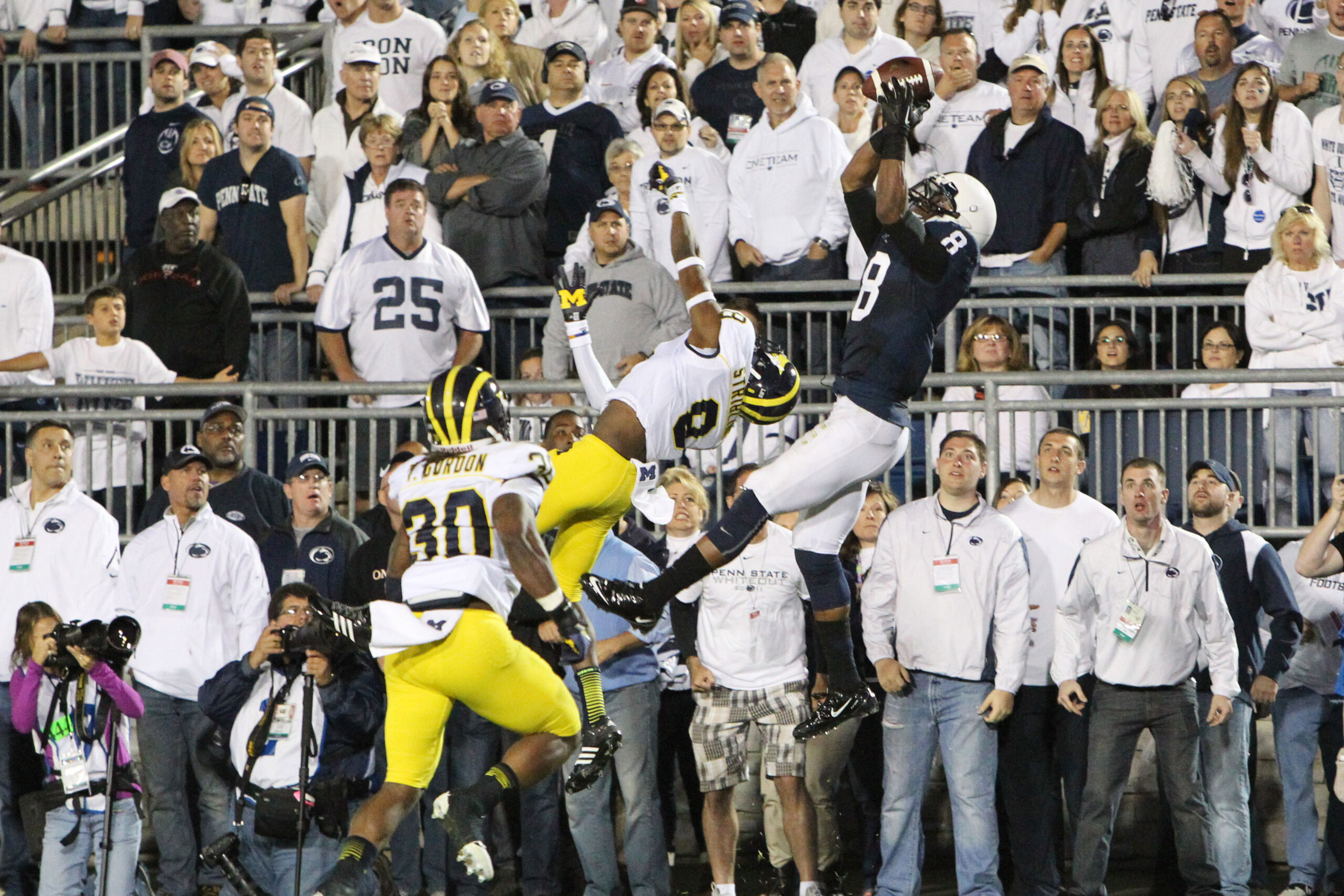 Today, we continue our best-wins series for the Penn State football 2023 schedule. Next up, an opponent that needs no introduction — Michigan. The Nittany Lions and Wolverines may not officially be rivals. Still, their series history has provided some must-see football games.
The two teams first met when Penn State started conference play in 1993. The Wolverines took the first matchup, but the Nittany Lions would win the next three, including the 1994 meeting. That victory would see Penn State vault to the top of the polls the following week. From 1997 to 2007, Michigan won nine straight in the series. The most devastating Lions loss in that stretch certainly was in 2005, even though it likely did not change the outcome of that season. Since the 2008 season, the series has been relatively even, with Penn State winning seven and Michigan six. With the addition of USC and UCLA to the conference, Penn State and Michigan will no longer meet annually, as they have since the 2014 season.
The victory in 1994 was certainly fantastic, occurring in Ann Arbor, which has been mostly a house of horrors for Penn State. But for the best win, we must recap the thriller in 2013.
It would be crazy to think this is just another game
Penn State was in the midst of Bill O'Brien's second season in Happy Valley. After opening wins against Syracuse and Eastern Michigan, Penn State would lose a close one against UCF. An embarrassing loss at Indiana would follow two weeks later, and the Lions would find themselves at 3-2, soul searching.
They would next face a 5-0 Michigan football team in front of a sold-out, White Out clad home crowd. O'Brien and the team were focused in the week leading up to the primetime matchup, trying to put their stinker of a loss in Bloomington behind them. Speaking to the media early in the week, O'Brien would state, "It would be crazy to think this is just another game."
Once the game started, both teams had early mistakes. After Michigan started with the ball going three and out, Christian Hackenberg threw an interception on the Lions' first drive. Michigan's Devin Gardner was just as generous, throwing an interception on the ensuing drive and setting Penn State up in prime real estate. The Nittany Lions drew first blood with Hackenberg's 12-yard strike to Brandon Felder.
Michigan would even up the score on its next drive and notch a field goal to take a 10-7 lead after one quarter. The second quarter was dominated by Penn State as the Lions forced two Michigan turnovers and found the end zone twice. Penn State would go into the halftime break up 21-10.
Penn State beats Michigan football in four OT thriller
The second half started with disaster for Penn State football, with Zach Zwinak fumbling on the half's first play and Michigan returning it for six points. The teams would later trade field goals, and Michigan took the lead into the fourth quarter after a touchdown.
After a missed field goal opportunity for Penn State to start the fourth quarter, Michigan football would take a 10-point lead with another touchdown. There were about 10 minutes to go, and it took Penn State about four minutes to get a field goal. The Wolverine's next possession only netted 31 yards, but it was a time-consuming effort. When punting back to Penn State, there were only 50 seconds left on the clock.
Hackenberg completed quick passes to Allen Robinson and Felder to start the drive. Then with under 30 seconds to go, Hackenberg launched one deep, which Robinson went up high to snag, falling down at the one-yard line. The stadium erupted, but the Lions still needed the touchdown. Hackenberg's sneak on the next play gave Penn State the tying score.
In the first overtime, the two teams traded missed field goals, with Michigan's being blocked. Kickers Brendan Gibbons and Sam Ficken both made their attempts in the second overtime. In the third overtime, Penn State tried to get cute with an end around to Robinson, which he fumbled, and Michigan recovered. Just as it looked like this would be it for the Nittany Lions, Gibbons missed again on a field goal attempt.
Finally, in the fourth overtime, Gibbons made his field goal. Penn State had possession next and had a 4th and 1 from the Michigan 16-yard line. O'Brien elected to go for it, later telling ESPN's Maria Taylor he did not think his team could go for much longer. Bill Belton would convert for the fresh set of downs.
Four plays later, Belton would find the end zone after a two-yard run. The White Out crowd exploded as the Lions beat Michigan football in this insane, back-and-forth affair. This was hands down the best win of Bill O'Brien's short tenure, and it was a much-needed shot in the arm for a program that had gone through so much in such a short amount of time.
---
---
Thank you for reading Basic Blues Nation. Please follow us on Facebook and Twitter for the latest news and insights on your favorite Penn State athletics. For feedback, questions, concerns, or to apply for a writing position, please email us at [email protected] or direct message us on our social media. Also, be sure to check out our new site shop. It's due to your support that we can become one of the market's fastest-growing Penn State sports outlets!