James Franklin is underrated as a head coach
James Franklin took Penn State football from sanctions to the top-10. He is one of the most underrated coaches in college football.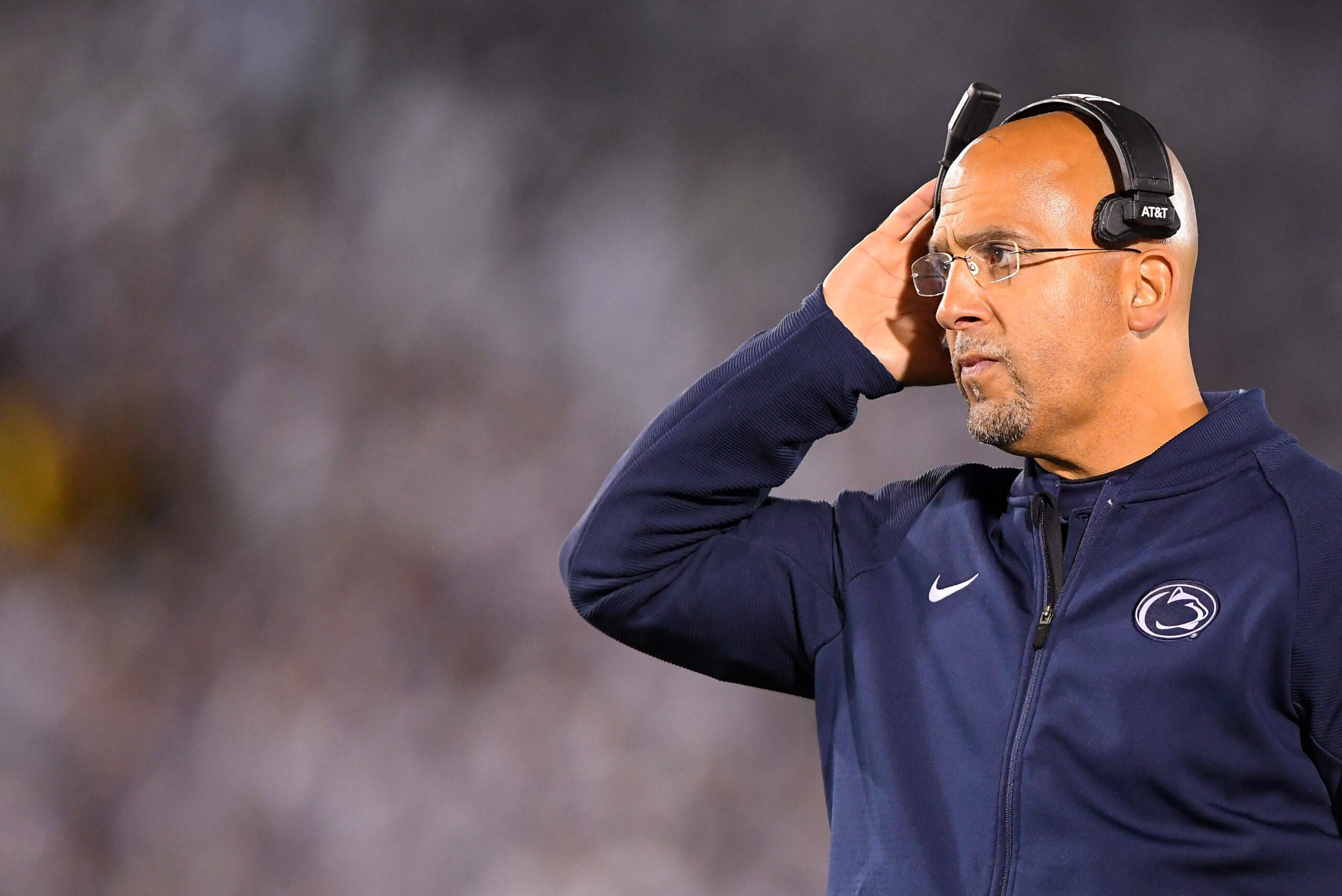 Penn State football has seen its ups and downs since 2014 — the year that James Franklin was hired. Still, some forget where the Nittany Lions' program was, and how far it has come since the NCAA handed it a death sentence in 2012.
Since the sanctions were lifted in 2016, James Franklin has won 11 games in four of his seven seasons, a Big Ten Championship, and three New Year's Six bowls — not just anyone can accomplish these feats. At the same time, PSU has seemingly fallen short a number of times despite its success. Nonetheless, James Franklin gets far too much hate and has become one of college football's most underrated head coaches.
Franklin turns Penn State around
When James Franklin initially arrived in State College, the Nittany Lions were coming off of two-straight years of NCAA sanctions. Penn State football was not allowed to see postseason play (despite its winning records) and was striped of a large number of scholarships.
The Penn State brand that many have come to know and love was tarnished by the Sandusky scandal — to say it was a hard recruiting pitch to sell would be an understatement. Yet, Franklin came in and changed things from the start. In year one (2014) Penn State football was finally allowed back into bowl season — the Nittany Lions' 6-6 finish was good enough for PSU to earn a bid to the Pinstripe Bowl.
It didn't seem like much for a program that has historically been among the football giants; however, for Penn State it was a big deal. Baby steps are still steps in the right direction. The Nittany Lions went on to knock off Boston College in a thrilling overtime matchup — PSU walked away with a 31-30 win.
In 2015, PSU saw a better regular season (7-5) yet failed to overcome Georgia in the TaxSlayer Bowl. Penn State's sanctioned teams held a record of 14-12 overall under Franklin (1-1 bowl games) — Penn State fans were beginning to become disgruntled with Franklin's hardly .500 record despite the cards he was playing with.
2016 changes the Franklin era
In 2016 — after starting the season 2-2 with losses to Pitt and Michigan — the Nittany Lions upset No. 2 Ohio State at home. Penn State's upset win over the Buckeyes in the White Out game got PSU back into the top-25, and kicked off a massive winning streak.
James Franklin went on to lead Penn State to a 10-2 finish (7-1 Big Ten) which was good enough to claim an East Division title and head to the Big Ten Championship game against No. 6 Wisconsin. Despite going down early (28-7) the Nittany Lions managed to come back and win a thriller, 38-31 over the Badgers.
2016 marked Penn State's first 11-win season since 2009 and its first Big Ten Championship since 2008. Additionally, it was the Nittany Lions' first outright Big Ten title since 1994.
2017-2019: Penn State keeps winning
After Penn State's magical 11-3 Big Ten title season in 2016, the Nittany Lions started 2017 with a 7-0 record. Despite taking a large lead over Ohio State, Penn State seemingly choked it away in Columbus and eventually fell by one single point. The following week, the Nittany Lions fell to a mediocre Michigan State team on the road again.
PSU managed to win out following its two midseason losses; however, the damaged was done and Penn State football missed out on the College Football Playoff. Still, PSU held some impressive victories — such as a 42-13 win over No. 19 Michigan in the White Out game — and earned a Fiesta Bowl bid vs. No. 12 Washington. Once again, James Franklin made Penn State history.
Penn State's 35-28 win over Washington in the 2017 Fiesta Bowl was the Nittany Lions' first New Year's Six win since 2005 when Joe Paterno led PSU to a win over Florida State in the Orange Bowl. Additionally, it was Penn State's first back-to-back 11-win seasons and top-10 finishes since 2008-09.
In 2018, Penn State came into the year with incredibly high expectations, yet fell short of its goals. Still, despite falling short of a NY6, the Playoff, etc., James Franklin and Co. still managed to finish 9-3 overall before losing to Kentucky in the Citrus Bowl. Regardless, the Nittany Lions finished ranked (No. 17) three times in a row for the first time since the 1990s.
The year after Penn State's disappointing 9-4 season, Penn State football made a return to the top-10 with an 11-2 season. Much like the 2017 team, the 2019 Nittany Lions started the year hot (8-0) before losing two road games: Ohio State and Minnesota.
It was a tough pill to swallow for most; though PSU again got itself back on track and finished 10-2. The Nittany Lions secured another NY6 berth to the Cotton Bowl vs. 12-1 Memphis. In an abnormally high-scoring affair, Penn State football walked away with yet another NY6 win, 11-win season, and top-10 ranking.
Frankly, 2016-2019 was the best stretch of Penn State football that we had seen since Joe Paterno won two National Championships in the 1980s — perhaps a case could be made for sometime in the mid-1990s, though it would be a tough case to make.
James Franklin hits a bump
In 2020, off the heels of a New Year's Six win and top-10 finish, Penn State football hit a road bump: a global pandemic struck the US. The Big Ten was all over the place, but eventually decided to play games starting in mid-October.
Penn State football started the year 0-5 before righting the ship with a 27-17 win at Michigan. The Nittany Lions' poor start turned into a 4-0 finish before PSU decided to opt out of bowl season. It was just the COVID-19 season, but it still hurt. A year later — despite a 5-0 start and top-4 ranking — Penn State football again fell to around .500.
Penn State's 7-5 season in 2021 concluded in a fitting way: a 24-10 loss in the Outback Bowl to Arkansas. From 2020-21, Penn State held an 11-11 overall record, and most had grown tired of Franklin. In 2022, it was time to put up or shut up.
Franklin bounces back, Penn State wins Rose Bowl
Heading into the 2022 season, no one expected much from Penn State football. The Nittany Lions were coming off of back-to-back poor seasons and had too much turnover for anyone to be certain about their future — additionally, Penn State returned Sean Clifford (QB) and lost stars like Jahan Dotson (WR).
Despite coming into the year with a projected record between 7-5 and 8-4, the Nittany Lions managed to get their program back on track and win 10 regular season games for the fourth time since 2016. After Penn State's incredible 10-2 regular season, James Franklin and Co. headed to the Rose Bowl for the second time in his tenure — the first was in 2016 and ended with a 52-49 loss to USC.
For the first time since 1995 and the second time in program history, Penn State football won the Rose Bowl. This year's Rose Bowl win — a 35-21 win over No. 8 Utah (PAC-12 Champions) — was a milestone for Franklin and Penn State, and will build momentum for the Drew Allar era in 2023 and 2024. Yet again, Penn State football won 11 games, a NY6 bowl, and finished in the top-10 under James Franklin.
Franklin's resume
So far, James Franklin has coached at Penn State for eight full seasons and nine years total.
In eight full seasons as Penn State's head coach, James Franklin is 74-31 overall with three New Year's Six wins (Rose, Cotton, Fiesta), four top-10 finishes (2016, 2017, 2019, 2022) and one Big Ten Championship (2016). Additionally, Franklin has five ranked finishes in his last six full seasons, and won the Big Ten Coach of the Year Award in 2016. Franklin has also coached two consensus All-Americans: Carl Nassib (2015) and Saquon Barkley (2017).
If you lay it out, Franklin's resume since the sanctions on Penn State dropped are quite impressive. Here are Penn State's last six full seasons:
11-3, Big Ten Champions (No. 7)
11-2, Fiesta Bowl Champions (No. 8)
9-4 (No. 17)
11-2, Cotton Bowl Champions (No. 9)
7-6
11-2, Rose Bowl Champions (No. 7)
Not too bad for a coach that some claim is one of the worst in the sport. James Franklin is one of the most underrated college football coaches out there, and it's about time that we give him the respect that he has earned.