Iowa's Caitlin Clark Makes History in Rout of Penn State
The Lady Lions witnessed history during their difficult loss Sunday.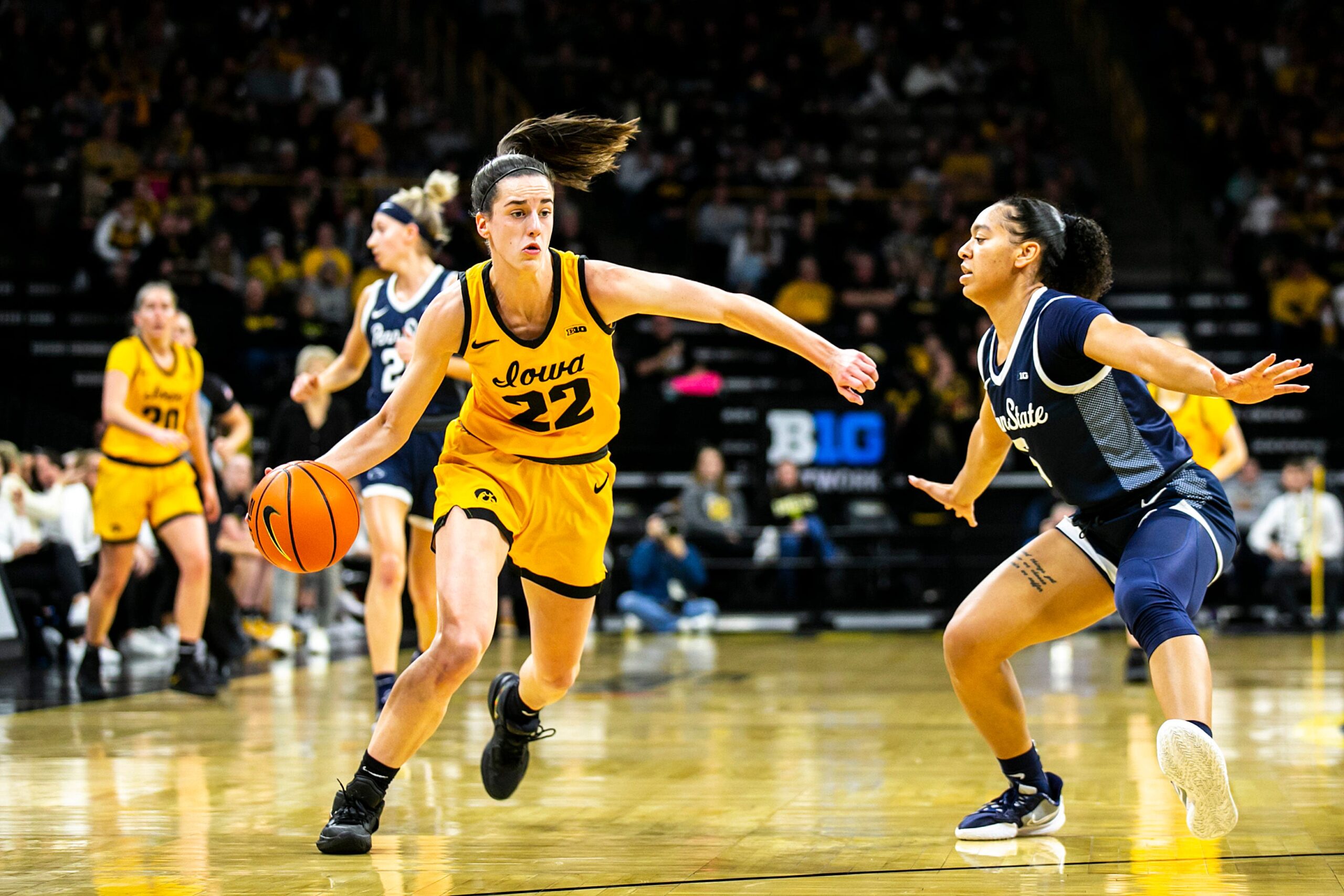 Penn State Lady Lions basketball (13-11, 4-9 Big Ten) fell to No. 6 Iowa (19-4, 11-1 Big Ten) Sunday at home, losing 95-51. Iowa's Caitlin Clark recorded the 9th triple-double of her career, which ties her for second all-time in NCAA D1 women's basketball history.
Overall, the rout was unpleasant but not unexpected, given the Hawkeyes' dominance in Big Ten play this season.
Sleepy Sunday for the Lady Lions
Penn State jumped out to a 5-4 lead early but went ice cold from the field. The Lady Lions shot 27% (17-62) for the game, including 24% (6-25) from deep.
Standout guard Makenna Marissa uncharacteristically struggled, starting the game 0-5 from the field. Marissa finished the day with 9 points (1-10 from the field), 6 assists, and 6 rebounds. Taniyah Thompson led the Lady Lions in scoring with 11 points on 4-10 shooting.
Caitlin Clark Does Caitlin Clark Things
Defensively, Penn State had no answer for Iowa's high-powered offense, which currently leads the nation in scoring.
Reigning Big Ten player of the year Caitlin Clark claimed another milestone with her 9th career triple-double, recording 23 points, 14 rebounds, and 10 assists. Even the Lady Lions acknowledged the significance of Clark's performance. "Caitlin Clark is a once-in-a-generation player," Penn State coach Carolyn Kieger said after the game.
The Lady Lions struggled on the glass, allowing 51 rebounds and only grabbing 24. Iowa also dominated scoring in the paint and on the fast break, outpacing the Lions 58-18 and 28-13, respectively.
Iowa led by as many as 49 in the second half, but it didn't matter. This one was well out of hand by halftime.
"Defense is all about heart, and we didn't have it today," Kieger said when asked about her team's performance on that side of the floor.
What's Next for Penn State?
Despite the loss, Carolyn Kieger still insisted that her squad can compete in the Big Ten this season.
Penn State will have a week to reset before its next matchup. The Lady Lions will hit the road next Sunday to take on Michigan State (11-11, 3-8 Big Ten) in East Lansing. The first time the two teams will face off this season, the Lions should be able to handle the Spartans, who are struggling this season.
While Sunday's game should be winnable for the Lady Lions, another daunting matchup looms next week. Penn State will face No. 10 Ohio State on Thursday in the second-to-last home game of the season.