Penn State Basketball: Illinois Game Notes and Live Blog
The Nittany Lions look to stop a four-game losing streak against the Illini at home tonight.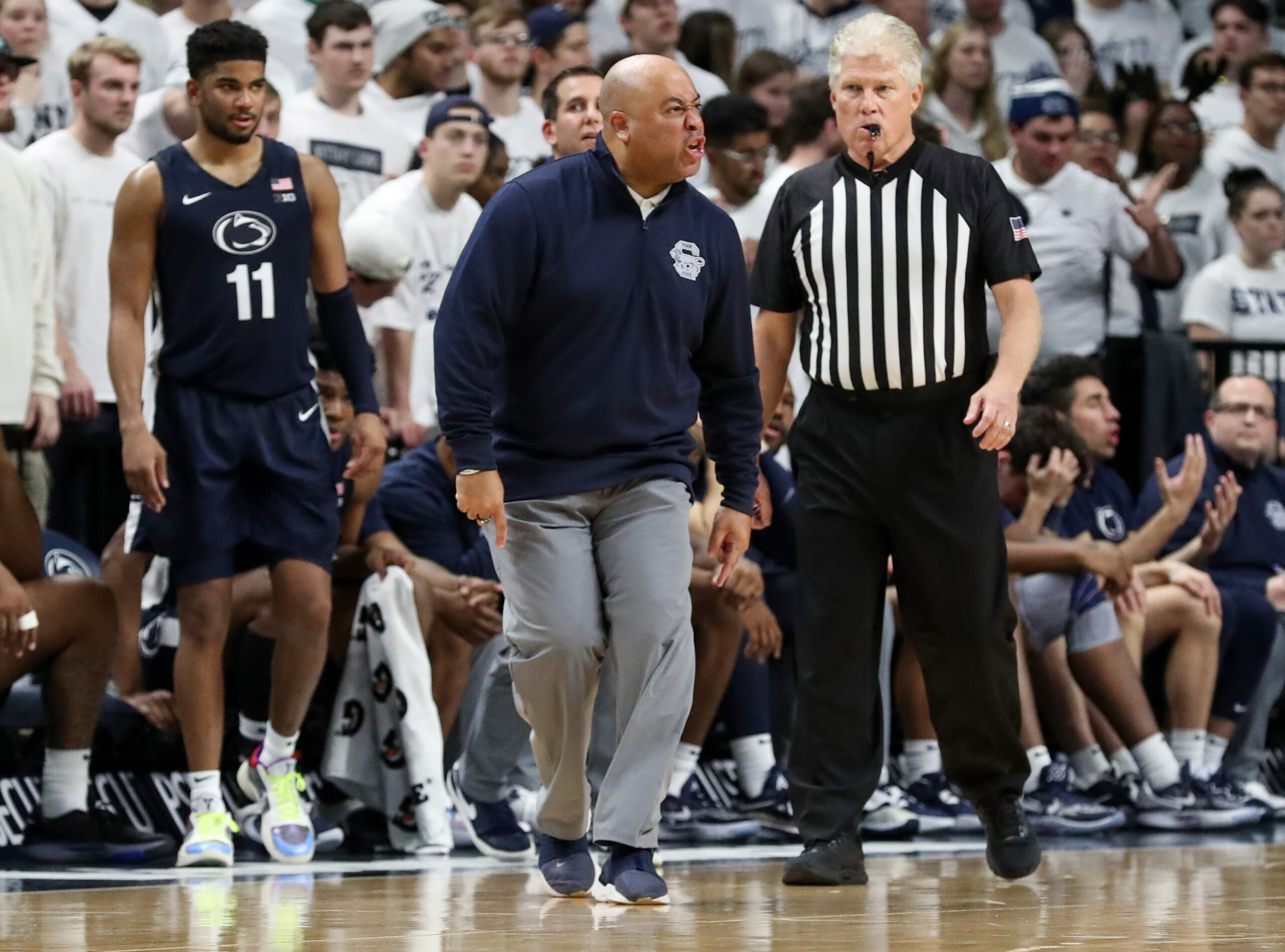 Penn State basketball (14-11, 5-9 Big Ten) hits the hardwood again tonight to take on Illinois (17-7, 8-5 Big Ten) inside the BJC. Tip-off is a 7 PM EST, and the game will air on ESPNU.
Amidst a four-game losing streak, the Nittany Lions' Tournament hopes are growing slimmer by the day. If Micah Shrewsberry wants his team to make any postseason tournament this year, then the Lions will have to course-correct immediately.
"…the road doesn't get easier," Shrewsberry told reporters yesterday. "We know that, playing in this league, how tough it is and how tough it's gonna be."
Will Penn State basketball get back in the win column tonight? Your guess is as good as mine at this point. But follow along with Basic Blues Nation here for in-game stats and commentary. Because, at worst, misery loves company.
Game Notes – Stopping the Skid
As noted, Penn State comes into this matchup having lost its previous four games. A win against Illinois would be significant on many fronts. Currently No. 22 in the NCAA NET Rankings, a win would give Penn State its third Quad 1 victory of the season. Having already defeated the Illini in Champaign, the Nittany Lions are looking for their first regular-season sweep of Illinois since 2019.
However, the task will not be easy. Illinois has won eight of its last ten games, including a victory against No. 21 Rutgers (NET rankings) on Saturday. The Illini are near the top of the conference in nearly every major statistical category. On defense, Illinois leads the Big Ten in blocks and is top-three in rebounds, field goal percentage defense, and turnovers forced per game.
The Nittany Lions have struggled on the defensive end of the court in this recent losing skid. In the last four games, the Lions' opponents have shot at least 50% from the field. The defense will be tested again tonight, as the Illini rank third in the Big Ten in scoring offense.
Traditionally this season, Penn State has pulled out games at home by scoring from deep. The Lions rank first in the conference (fourth nationally) with 10.8 three-pointers made per game. However, this may not be as much of an advantage tonight, as Illinois is third in the Big Ten in threes made per game.
If Penn State wants a chance tonight, turnovers must play a critical role. The Nittany Lions are second in the nation, with 8.9 turnovers per game. However, in Saturday's loss at Maryland, they were terrible in this department, turning the ball over 13 times. The Illini, meanwhile, turn the ball over more than any team in the conference. If the defense can steal a few extra possessions tonight, then maybe – just maybe – Penn State has a chance to get the upset.
First Half Updates
15:00 Remaining: Penn State 14, Illinois 11. Both teams have started hot from the field. The Lions are currently shooting 6-9, including makes on four of their last five shots. Seth Lundy and Andrew Funk have already hit two big threes early to give Penn State the lead. Lundy leads all scorers with five points.
11:48: Penn State 22, Illinois 13. Illinois has cooled off, but Penn State continues to heat up. Penn State has made three of their last four three-pointers during a 10-2 run in the previous 3:55. Leading the way is Jalen Pickett, who already has nine points on 4-5 shooting.
8:41: Penn State 33, Illinois 24. The Illini made their surge, but the Nittany Lions responded. As Pickett headed to the bench for a quick breather, Illinois took advantage inside as part of a 6-0 run to pull it within three points. Pickett has the last eight points for Penn State, including two big threes. He currently has 17 points on the evening. Lundy is also shooting the ball well, but the Lions aren't getting help from anyone else. Ty Rogers leads Illini scorers with six points.
3:15: Penn State 44, Illinois 33. Penn State has been distributing the ball well and paying it off with good shot selections. The Lions' last five baskets from the floor have been from beyond the arc. Meanwhile, the Illini have only made one shot in their previous four attempts. Penn State currently holds its largest lead of the night.
Halftime: Penn State 53, Illinois 40. Jalen Pickett has passed the 2,000-point mark for his career. Technically speaking, Pickett is playing out of his mind. He has 24 points on 10-12 shooting – against one of the best defenses in the conference, no less.
So far, I can pick out two differentiating factors in this game. First, Penn State has been lights out from beyond the arc. The Nittany Lions are currently shooting 56% from deep (63% overall). On the other hand, the Illini are shooting 36% from three (50% overall).
Second, the Nittany Lions are capitalizing on Illinois's turnovers. Although the turnover margin is slim (5-2 in favor of Penn State), the Lions have scored 13 points off Illini turnovers, compared to a single point for Illinois.
Penn State is certainly playing like they have something to prove. We'll see if this continues in the second half.
Second Half Updates
15:15: Penn State 64, Illinois 52. Penn State's typical woes out of the halftime break continued tonight. Illinois started the second half on a 7-1 run to make it a single-digit game. But, the Nittany Lions reclaimed the momentum by making five of their last six shots to extend the margin to 12. Potentially of note for later – Kebba Njie has been forced to the bench with three personal fouls.
13:21: Penn State 68, Illinois 57. Pickett now has a new scoring high for the season with 30 points. The BJC scoring record is 37. The program record is 46. You know, if you're interested in that sort of thing.
Jalen Pickett with 24 points in the first half with Penn State up 53-40 at the break. DJ Newbill had 37 against Purdue in 2015 which is the BJC record. 46 is the program record set back in 1961.

— Ben Jones (@Ben_Jones88) February 15, 2023
11:56: Penn State 71, Illinois 57. The Jalen Pickett record watch is officially on. He currently has 33, four off of the BJC record. He has made 13 of his last 14 shots, including eight in a row.
8:00: Penn State 76, Illinois 66. Illinois used a 9-2 run to pull the score within eight with less than nine minutes to play. While watching Pickett go off has been fun, the lack of production from everyone else is a little concerning. Funk and Lundy have combined for 21 points. Pickett currently has 35, two shy of the BJC record.
3:51: Penn State 84, Illinois 71. Jalen Pickett has now tied the BJC scoring record with 37 points. The Lions have slowed down the pace of the game and should have enough of a margin to ride this one out.
Final: Penn State 93, Illinois 81
What else is there to say – it was the Jalen Pickett show. Pickett had 41 points, setting the BJC scoring record. It is also the best scoring performance for any Big Ten player this season.
Pickett showed why he is one of the best players in the country tonight. The most impressive part of Pickett's performance (aside from all the points) was his efficiency. Pickett went 15-20 from the field, including 5-9 from deep, and 6-6 from the foul line.
Lundy (15 points), Funk (10 points), and Kanye Clary (12 points) had respectable scoring nights. But, Pickett willed the Nittany Lions to victory tonight. Penn State led for all but two minutes in this game.
Another impressive win has been added to the Nittany Lions' resume. Penn State's Tournament hopes live on.
Penn State basketball: New transfer portal addition is reason for excitement
Mike Rhoades is killing it in the transfer portal so far.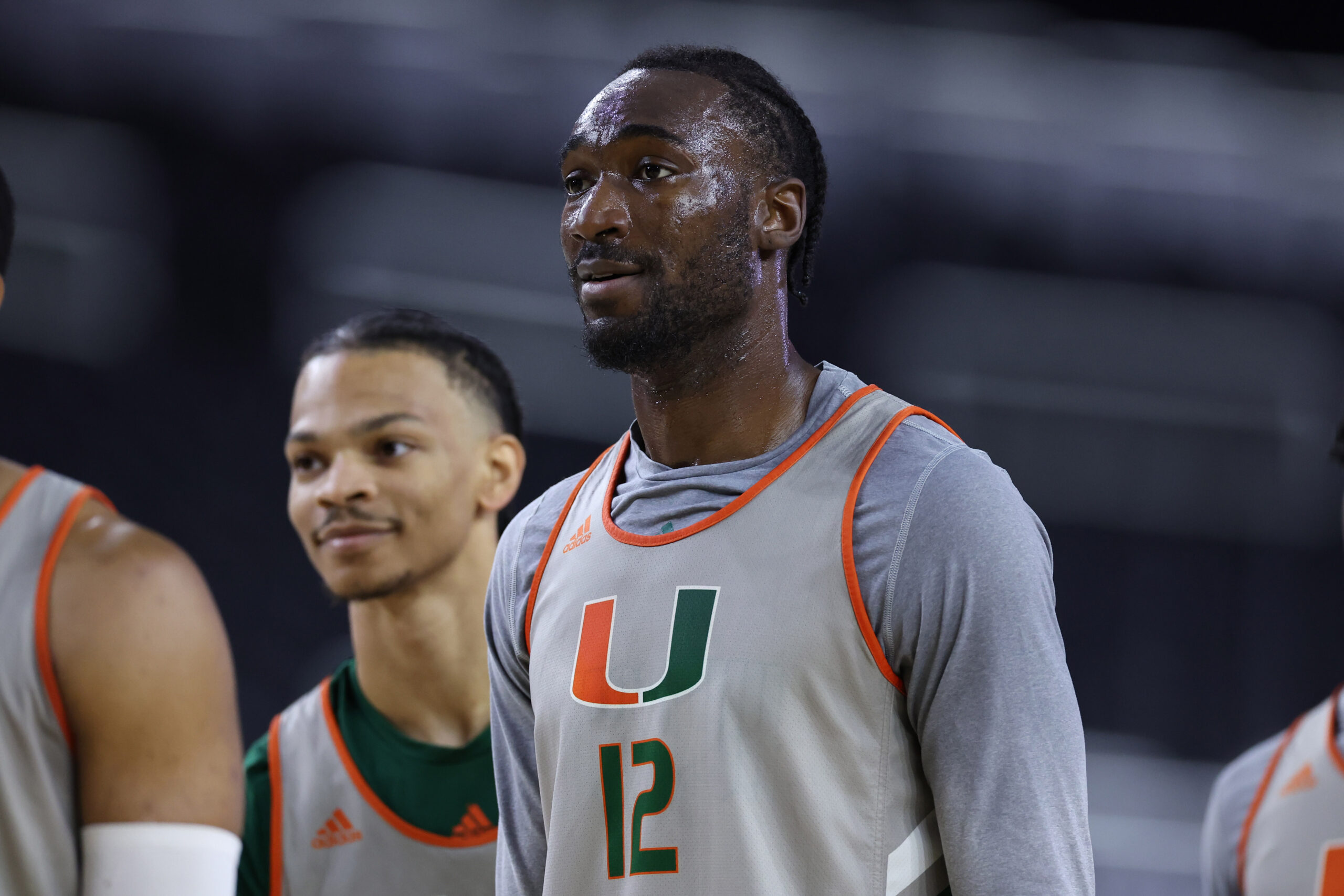 Yesterday, newly appointed head coach Mike Rhoades continued to bolster his revamped Penn State basketball team by adding another player from the transfer portal. The addition of Favour Aire, a former four-star recruit, has sparked significant excitement among Nittany Lion hoops fans as they eagerly anticipate the upcoming 2023-24 season.
Mike Rhoades adding size, length and athleticism out of the transfer portal for Penn State with a commitment from 6-foot-11 center Favour Aire

A former 4-star prospect who played his freshman season at Miami (FL) in 2022-23, Aire adds depth to the center spot behind Qudus Wahab pic.twitter.com/WdmtslPu95

— Tyler Millen (@Tmillen15) May 22, 2023
Penn State basketball adds another transfer portal addition
After a remarkable season that saw Penn State basketball achieve one of its best records in history at 22-14 and reach the Round of 32 in the NCAA tournament, former head coach Micah Shrewsberry decided to leave the program for Notre Dame. Following Shrewsberry's departure, the Nittany Lions made an excellent choice in hiring Mike Rhoades, the former head coach of the VCU Rams. Rhoades, a Pennsylvania native, played a significant role in elevating the VCU program to prominence within the A-10 conference, even capturing a conference title in the 2022-23 season.
When Mike Rhoades assumed the coaching position at Penn State, the team had only two scholarship players on the roster. While the rebuild is not yet complete, it is certainly progressing in a positive direction. The latest addition to Penn State's upcoming roster is Favour Aire, a former four-star center from Miami, standing at an impressive 6-foot-10 and hailing from Maryland.
Favour Aire is headed to Happy Valley
A season ago, Penn State basketball lacked a true big man in the paint; instead, the Nittany Lions relied on their small guards and star players like All-American Jalen Pickett. However, when the offense struggled, the defense was often ineffective against larger teams. Fortunately, Mike Rhoades has addressed this issue by acquiring a new center.
Favour Aire (#12) is a 6'11 big transferring to Penn State from Miami. He averaged only 2.7 minutes a game his freshman season. Aire was the #144 ranked player in the 2022 class pic.twitter.com/Ld2GhPqQtX

— Joe Jackson (@Joe_Jackson2210) May 22, 2023
Penn State basketball is currently undergoing significant identity changes. Micah Shrewsberry's fast-paced offensive strategies are about to transition into Mike Rhoades' defensive schemes, which may not be the smoothest transition. Nevertheless, Rhoades seems to be benefiting from the opportunity to shape the team according to his vision.
According to the ON3 rankings, the newest addition to the Penn State basketball transfer portal is a former four-star recruit. Initially ranked as the No. 112 recruit in the class of 2022, he was also regarded as the No. 20 center in the nation and the No. 4 recruit in the state of Maryland.
Some fans may raise concerns about his limited playing time during his season in Miami. However, it's important to consider that the Hurricanes were incredibly successful last season, and he was playing behind an All-ACC-caliber center, which made it challenging for him to secure playing time.
For the rebuilding Penn State basketball program, this significant addition brings much excitement as they enter year one of the Mike Rhoades era in State College.
---
---
Thank you for reading Basic Blues Nation. Please follow us on Facebook and Twitter for the latest news and insights on your favorite Penn State athletics. For feedback, questions, concerns, or to apply for a writing position, please email us at basicbluesnation@gmail.com or direct message us on our social media. It's due to your support that we can become one of the market's fastest-growing Penn State sports outlets!
Penn State guard joins former coach on staff of in-state rival
The former Penn State guard will be joining his old coach in Philadelphia.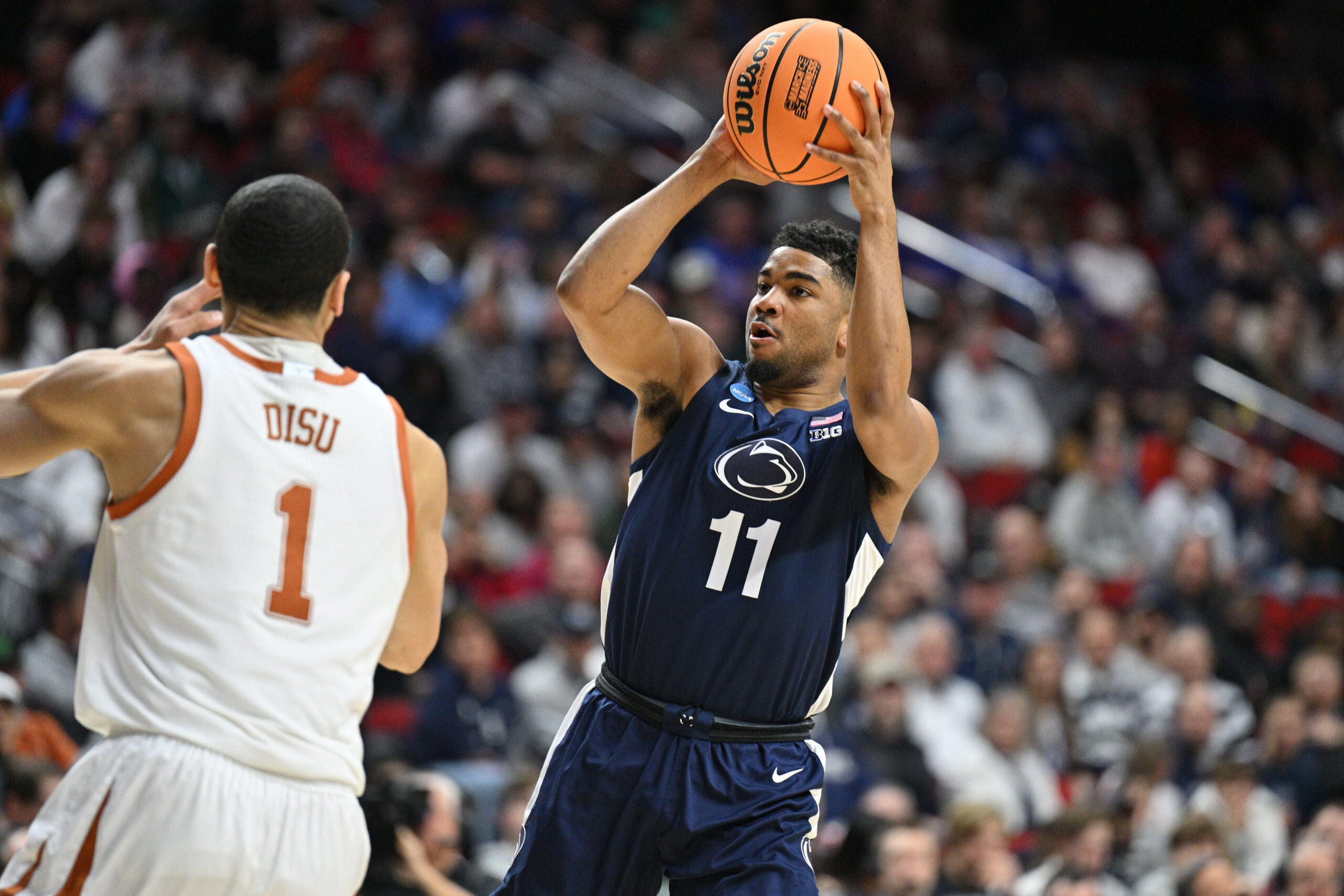 The coaching carousel in college basketball has now slowed considerably in May. Many schools, like Penn State, have made their head coaching decisions, and the necessary staff pieces have followed in recent weeks. However, some moves are still being made that impact the Penn State world. This week, Penn State guard Cam Wynter, who just finished his playing career, decided to join his former coach Adam Fisher on the Temple basketball staff.
Turbulent times in Happy Valley
There has been much turnover on the Penn State basketball coaching staff over the past few years. First, in 2020, Pat Chambers resigned after allegations of inappropriate conduct after a steady nine years at the helm. Replacing Chambers was interim head coach Jim Ferry, who was not retained by Penn State. Ferry went on to become UMBC's head coach. 
Penn State thought it found stability with the hire of Micah Shrewsberry. Quite frankly, Shrewsberry took Penn State's program to heights that were not thought of as possible. Impact transfers like Jalen Pickett, Andrew Funk, and Cam Wynter all transferred to Penn State with Shrewsberry as head coach. This past season, Penn State finished as runner-up in the Big Ten Tournament and made it to the Round of 32 in March Madness. But shortly after the season, Shrewsberry left Penn State to return to his home state of Indiana to coach for Notre Dame. Penn State was once again searching for head coach answers. 
Penn State finds its next head coach
After Shrewsberry left, Penn State prioritized finding someone with Pennsylvania ties who could keep Penn State as an NCAA Tournament-caliber team. Penn State fans jokingly clamored for Jay Wright, who had won two national championships at Villanova. But Wright was obviously not going to leave the CBS TV studio to come to Happy Valley. Colgate Head Coach Matt Langel's name was mentioned by many media outlets. FAU Head Coach Dusty May was also a top candidate. Neither guy ended up with the Penn State job. 
Much attention was also given to Shrewsberry's assistant head coach, Adam Fisher. Fisher was a Penn State alum with years of coaching experience at Penn State. Many Penn State players vouched for him, including Jalen Pickett, Myles Dread, Andrew Funk, and Camren Wynter, who all tweeted that Penn State should promote Fisher. 
But Penn State athletic director Pat Kraft decided to go another way. Kraft brought in Mike Rhoades from VCU, who took the Rams to three NCAA tournaments in the last four years. Rhoades has immediately brought impact transfers to Happy Valley.
Adam Fisher gets his shot with Temple basketball
Ultimately Adam Fisher did get a head coaching job in Pennsylvania, just not with the program people expected. Fisher was named the next head coach of Temple. The choice made sense for the Owls, as Fisher has obvious Pennsylvania ties and has taken a team to the NCAA Tournament. 
Welcome to Temple @Coach_Afish!

— Temple Men's Basketball (@TUMBBHoops) March 29, 2023
Former Penn State guard Cam Wynter follows Fisher to Philadelphia
On Tuesday, it was announced that former Penn State guard Cam Wynter was joining Adam Fisher's staff at Temple. Wynter played at Drexel for four years before transferring to Penn State for the 2022-2023 season. Wynter became a fan-favorite for his late-game heroics during Penn State's push to the NCAA Tournament, hitting game-winning buzzer-beaters against Northwestern and Maryland in the regular season. 
Camren Wynter, has been named Special Assistant to Temple Men's Basketball Head Coach Adam Fisherhttps://t.co/yFKRAeSK03

— Temple Men's Basketball (@TUMBBHoops) May 16, 2023
Wynter was one of nine Division I athletes in the last 30 years to finish their career with at least 1,900 points, 600 assists, and 600 rebounds. After advocating for Fisher to get the Penn State job, Wynter will now follow his former coach to Philadelphia to begin his own coaching career.
---
---
Thank you for reading Basic Blues Nation. Please follow us on Facebook and Twitter for the latest news and insights on your favorite Penn State athletics. For feedback, questions, concerns, or to apply for a writing position, please email us at basicbluesnation@gmail.com or direct message us on our social media. It's due to your support that we can become one of the market's fastest-growing Penn State sports outlets!
Penn State basketball: Nittany Lions make history with NBA Combine invite
Former Nittany Lions Jalen Pickett and Seth Lundy continue to make history for the Penn State basketball program.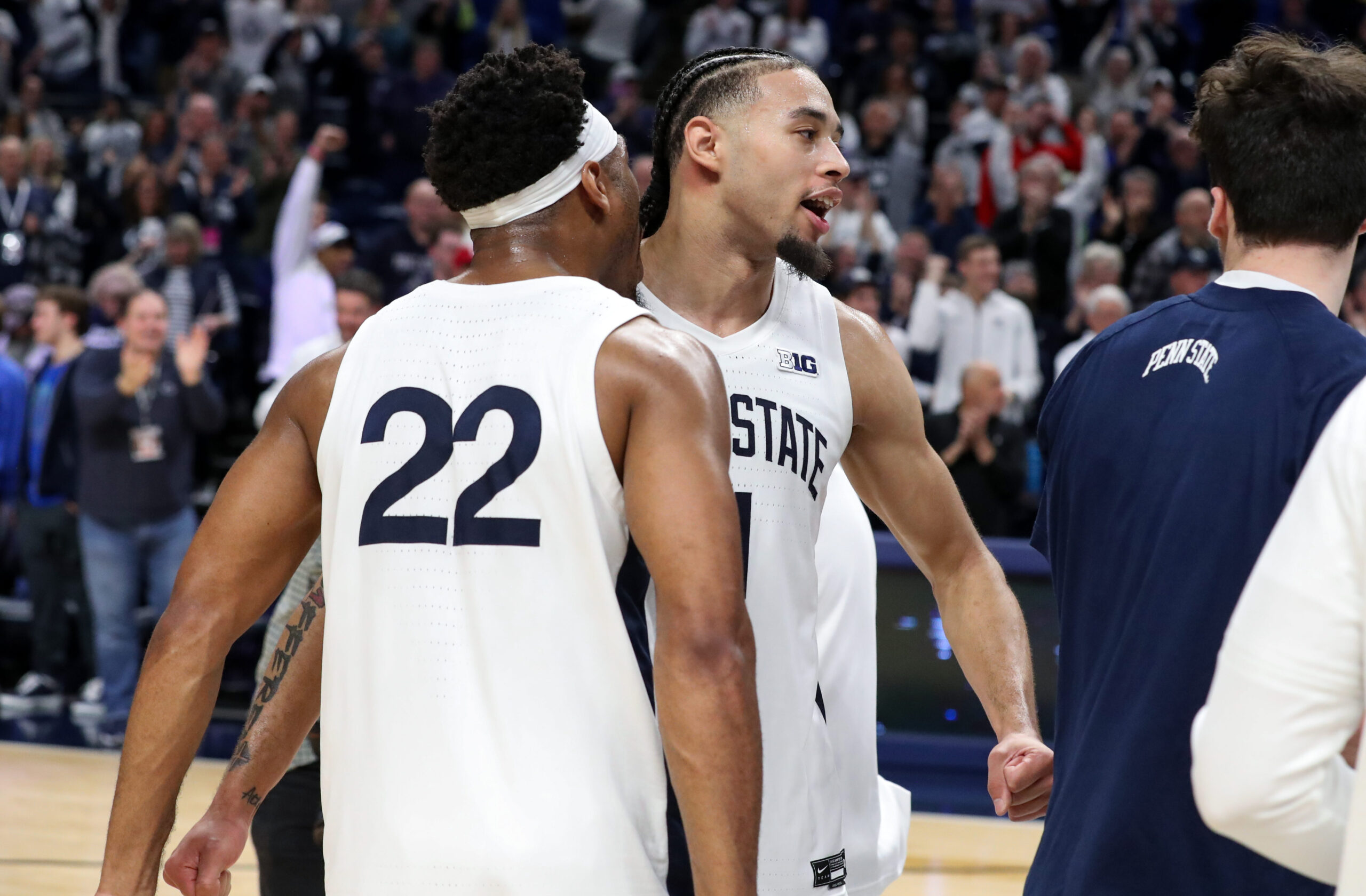 Although it was overshadowed by the coaching change and roster turmoil that followed, last year was a historic season for the Penn State basketball program. The Nittany Lions played in the Big Ten Tournament Championship for the second time ever, made their first NCAA Tournament appearance since 2011, and won their first tournament game since 2001. In a season of firsts, Jalen Pickett became the program's first All-American since Jesse Arnelle nearly 70 years ago. And the 2022-23 Penn State basketball team made history once again Tuesday, as Pickett and fellow former Nittany Lion Seth Lundy were announced as participants in the upcoming NBA Combine.
Lundy and Pickett make history with NBA Combine invite
On Tuesday night, Penn State announced that Jalen Pickett and Seth Lundy had been officially invited to the NBA Combine, which begins on May 15 in Chicago, Illinois. The news marks the first time that Penn State basketball has had two players invited to the NBA Combine in the same year. Pickett and Lundy become only the fourth and fifth Nittany Lions to ever earn NBA Combine invitations, preceded by Jarrett Stephens (2001), Tony Carr (2018), and Lamar Stevens (2020).
Happy Valley → #NBA Combine@JalenPickett7 & @llseth23 have officially been invited to next week's NBA Draft Combine in Chicago: https://t.co/BfWIcf90CC#WeAre pic.twitter.com/5PwlkdWUQ1

— Penn State Men's Basketball (@PennStateMBB) May 10, 2023
Pickett put together one of the best seasons in NCAA history last winter. He became the first Division I men's player since 1993 to average at least 17 points, seven rebounds, and six assists per game while shooting over 50% from the field for an entire year. The season was a capstone of a historic collegiate career for Pickett. Pickett is the first player since 1986 to tally over 2,000 points, 700 rebounds, and 800 assists over his college tenure.
An All-Big Ten Honor Mention, Lundy averaged over 14 points and six rebounds per game in 2022-23, his most impressive season at Penn State. Lundy's 1,283 points and 229 three-pointers made rank 20th and sixth in program history, respectively. In March, Lundy announced his intention to enter the NBA Draft after his senior season in Happy Valley.
Penn State basketball's dynamic duo look to make history once again
Two of the most successful players ever at Penn State, Pickett and Lundy will try to make history once again in next month's NBA Draft. The duo aims to become the first Lions drafted since Tony Carr was selected by the New Orleans Pelicans in the second round of the 2018 NBA Draft. Carr is the only Nittany Lion taken in the NBA Draft this millennium. If both Lundy and Pickett are selected, it will be the first time Penn State has ever had multiple draft picks in the same year. Given their track record on the court, the pair has a great chance to check one final box for the Penn State basketball program. 
---
---
Thank you for reading Basic Blues Nation. Please follow us on Facebook and Twitter for the latest news and insights on your favorite Penn State athletics. For feedback, questions, concerns, or to apply for a writing position, please email us at basicbluesnation@gmail.com or direct message us on our social media. It's due to your support that we can become one of the market's fastest-growing Penn State sports outlets!